If you are looking for a metalworking machine that can easily slice to any type of metal, then you should divert your attention to the Dake cold saws.
Specifically designed to reduce chatter, these machines are available in manual, semi-automatic, and automatic styles. They each feature a 45° rotation to the right and left of the center position, and they all have a heavy-duty spindle and gearbox assembly housed inside the machines for a longer lifespan. In this ultimate guide, we will cover the basics of our cold saw inventory.
It is worth bearing in mind that with any metalworking project, it's important to remember safety first rules especially when you are running metalworking equipment.
Even if you are familiar with the rules, refresh your memory by going to the Occupational Safety and Health Administration (OSHA) and/or read the tips on the Machine Accidents website which outlines a list of do's and don'ts to reduce the risk of metalworking accidents.
Manual Cold Saws
Here at Dake, we offer three variations of the manual cold saw machine.
The Technics 350CE comes with a 14-inch blade, a pedestal base, a tool kit, a gallon of coolant, and an adjustable positive stop. Offering variable speeds, this particular model can rotate up to 90º right for slot cutting.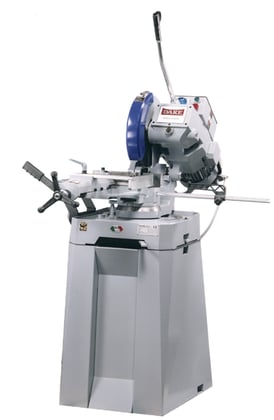 Next is the Super Cut 315 model that comes with a 12.5-inch blade, a pedestal base, a tool kit, a gallon of coolant, and an adjustable positive stop. It also features a bronze gear that has a tapered roller bearing support. The oversized spindle comes with a ball bearing support to prevent failure, and the vise is hand-adjustable.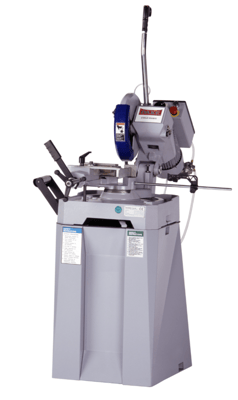 Finally, the Technics 250 features a 10-inch blade along with the other standard equipment that we listed for the other two manual cold saw machines. This affordable cold saw was designed to cut metal without producing any sparks. Your material should feel cold to the touch when you finish.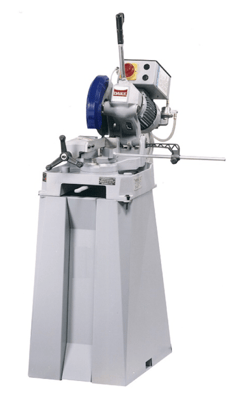 Semi-Automatic Cold Saws
If you are looking for something that requires less input from you but is not entirely automated, we have a trio of semi-automatic cold saw machines here at Dake.
First is the Euromatic 370S-L Non-Ferrous model. It comes with a 14.5-inch blade, coolant, a saw blade selector calculator, a tool kit, and an adjustable positive stop. Additional features include two removable surface wear plates, 45º-rotating heads, a trio of gib guides, and a manual oiler. The motor generates 4.5 horsepower, and this user-friendly machine is easy to set up and learn on.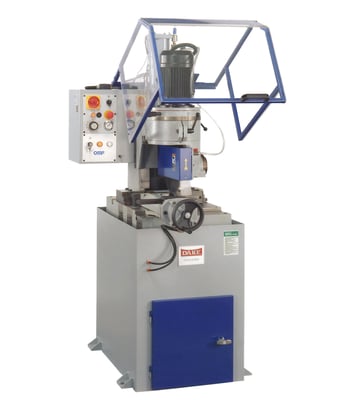 Second is the Euromatic 370S Ferrous. It is very similar to the first model, and it comes with the same size blade and the same basic equipment.
The difference can be seen with the heads. This particular semi-automatic cold saw features to a 45º-rotating head and a 90º-rotating head as well. It also comes with a metal-chip brush that is self-adjusting.
Lastly, the Technics 350SA model is a bit different. Featuring a 14-inch blade, it comes with a push-button or foot switch activation. It also has a shroud-enclosed head feed cylinder, a large pedestal base, and a pneumatic vise that is adjustable.
Automatic Cold Saws
The final category for Dake cold saws is the automatic section. We've got two machines to choose from.
The first one is known as the Euromatic 370PP-L. Equipped with a 14.5-inch blade, this machine also comes with two removable surface wear plates, a tool kit for changing out the blades, coolant fluid, and a saw blade selector calculator.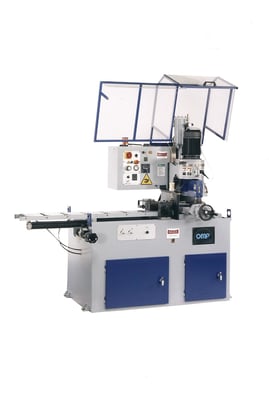 The head rotates 45º right of center, and the motor puts out 4.5 horsepower. Shock assists are located on the acrylic hood, and you can switch the cutting head from non-ferrous to ferrous with no problem.
The other option is the Euromatic 370PP model. This version of the machine is very similar to the first automatic cold saw model. The main difference is with head rotation. This one can rotate 45º right of center and 90º left of center. That adds cutting and slotting along with mitering abilities.
Manual Cold Saw vs Chop Saw
By now, you're probably wondering how the manual cold saw is different from the chop saw. The answer is quite simple. A chop saw uses an abrasive blade and the power of friction to cut through metal.
This can produce sparks, which can pose a fire hazard to your workshop environment. Meanwhile, the cold saw uses a traditional cutting blade to slowly slice through metal. Cooling fluid helps to keep the metal from overheating or producing sparks.
The results are clean, cool cuts with no distortion. Also, keep in mind that the cold saw will allow you to make cuts at various angles, which is ideal for cutting tubing. To see a manual cold saw in action, check out this video.
Installing a Cold Saw Cooling Pump
Since all of the Dake cold saws come with a cooling system to prevent thermal damage, we thought it would be a good idea to show you how to install the cooling pump. Your owner's manual and instruction booklet should include details about how to do this, or you can watch this handy video to see how it's done.
The cooling pump is housed inside a black casing and features a tube that transports coolant into the machine. Simply position the cooling pump to the designated spot on the cold saw. Using screws and a screwdriver, secure the cooling pump into place.
Before you test it out, make sure that the valve is open and all the tubing is attached properly. Then, turn the cold saw machine on. If you see the cooling fluid pouring over the blade, then you have installed it correctly.
Dake Service and Parts
Our metalworking machines are easy to maintain, but machines can need some professional attention from time to time.
If your Dake cold saw needs to be serviced, our technicians are here to assist you. We can even send you a video explanation of how you can fix the problem yourself. Replacement parts are also available as needed.
Even if you have an older Dake machine, we've got the parts for it. All you have to do is give us a call, and we will get whatever you need shipped out quickly. Get in touch with our experts today.