Well as the year winds down so does my series on Dake presses, set up, trouble shooting and maintenance. Today we are looking at our Dura press and Dura Force models. This series of presses are jam packed with capacities and features at an affordable price. Such presses have self-contained pumping units and double acting workheads. So, let's get cracking getting your Dura press installed. Ok I'm in a hurry I admit it, but I am getting ready for vacation time the rest of the year and want to make sure you get up and running. Here we go…
Thanks for visiting our blog, I look forward connecting with you to next year. HAPPY HOLIDAYS
DAKE DURA DA PRESSES & FORCE MODELS (All tonnages)
SETTING UP PRESS FOR OPERATION
Your new Dake Press has been packaged in a manner to prevent damage to any critical components; some assembly may be required. All parts in the accessory box are critical to the function of your press. Some presses may come completely assembled.
NOTE: FOR EASE OF ASSEMBLY LEAVE THE PRESS FRAME MOUNTED ON THE SHIPPING SKID
Remove plastic from the machine.
Open the box and you will see a pumping unit, with the press still laying on its side. Locate the four holes on the side of the press facing up.
Place the pumping unit on the side of the press with the mounting bracket facing down, making sure the holes all line up.
There are four bolts, washers, and nuts in a bag, in the box. Put the bolts in the holes using the washers and nuts. Make sure all nuts and bolts are tight.
With the press lying on its side fill the reservoir with DTE 24 Mobile oil or equivalent.
WARNING!!!!
Be sure all bolts and fittings are tight before operating this pumping unit, personal injury could result.
TROUBLE SHOOTING (Applies to all tonnages)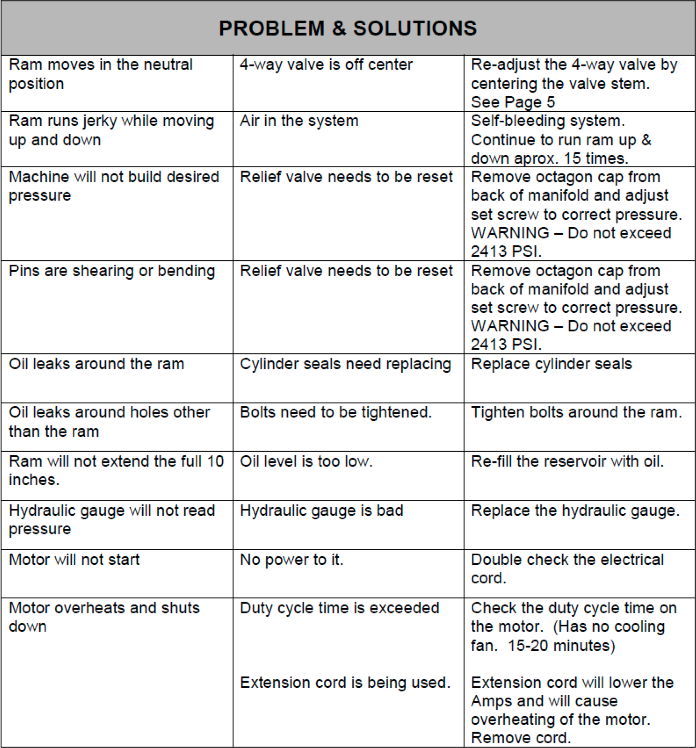 FORCE MODEL PRESSES (All tonnages)
SETTING UP THE PRESS FOR OPERATION
NOTE: REFER TO INSTALLATION MANUAL FOR IN-DEPTH HEAD INSTALLATION AND HOSE INSTALLATION INSTRUCTIONS.
For shipping convenience, some of the parts are not assembled. Assemble these parts in the following order:
NOTE: The press should set on a level floor with the base angles touching the floor at all points. Use shims where necessary.
Switch box is mounted on right upright. Have electrician connect switch to power line. Pump must rotate according to markings on motor or reservoir cover plate. (Add oil before running the pump)
Oil Requirements: Fill reservoir thru inspection cap on top of the reservoir with Mobil DTE oil No. 24 or equivalent. See owner's manual for oil quantity.
TROUBLE SHOOTING (All tonnages)