Lightweight, inexpensive, and easy to cut through, aluminum is one of the most popular materials for modern metalworking.
It can be used in numerous industries including automotive, aerospace, fabrications, manufacturing, and so much more. Its strength-to-weight ratio makes it suitable for a wide range of applications. Aluminum can also be recycled.
In this post, our experts here at Dake will go over the best ways to saw through aluminum for the project you want to work on.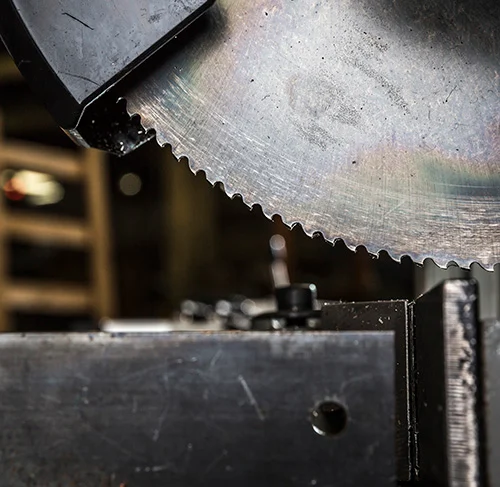 Circular Sawing
Since aluminum is so lightweight, high-speed sawing is optimal. One of the most popular ways to cut this metal alloy efficiently is to use a circular saw blade.
Here at Dake, we like to call them cold saws. The carbide circular cold saw blade is more expensive than other blades, but it provides the cleanest, most accurate cuts at the fastest speeds. You could saw through a 20-foot sheet of aluminum in a matter of seconds depending on the size and grade of the circular saw blade.
To minimize production time and increase productivity, you can even set up the cold saw to run through sheets of aluminum non-stop for several hours.
Band Sawing
Another type of sawing that you can use for cutting aluminum is band sawing. While older bandsaw machines weren't able to cut cleanly through aluminum due to their low speeds, the newer version can stand up to the task.
A bandsaw is also more affordable than a cold saw, and operators can program the cutting speed and ramp feed to suit the current project.
This enables the bandsaw to produce precise cuts without damaging the material or the blade. Bandsaws also have a thinner kerf than circular saws, which results in a higher yield and less waste.
Which Method Should You Use?
Now that you know about the two best sawing methods for working with aluminum, it's time to choose one for your next project. The main aspect to take into consideration is the application itself. If you need to manufacture 10,000 parts quickly, then the circular cold saw would be the best fit.
Another scenario for that works out in favor of the circular cold saw concerns the diameter. If the aluminum pieces need to be between 0.5-inches and 6-inches in diameter, then the circular cold saw would be the most suitable option here as well.
An optimal project to put the bandsaw to good use would be cutting aluminum material that has more than 6-inches in diameter.
If you don't own either type of saw yet and are trying to figure out which one to purchase first, it's best to consider the type of work you generally do. Both machines are sturdy, stable, and make metal cutting so much easier.
Dake Cold Saws
In our product lineup, you will notice that we offer three different types of cold saws including manual, semi-automatic, and automatic. Each machine was designed to fit a specific set of needs. Some are larger than others, and some offer more operator control than others. However, they are all built on a sturdy base that helps to reduce vibrations when the machine is in use.
We offer three manual cold saws including the TECHNICS 250 with a 10-inch blade, the SUPER CUT 315 with a 12.5-inch blade, and the TECHNICS 350CE with a 14-inch blade. The TECHNICS 250 model is the smallest in the lineup, and it is capable of mitering 45° to the left and the right due to its flexible head.
Meanwhile, the SUPER CUT 315 has the same mitering capabilities with added E-Stop, thermal overload protection, and low voltage protection. Lastly, the TECHNICS 350CE model adds the ability for slot curing at up to 90° to the right.
There are also three semi-automatic cold saws including the TECHNICS 350SA with a 14-inch blade, the Euromatic 370S Ferrous with a 14.5-inch blade, and the Euromatic 370S-L Non-Ferrous with a 14.5-inch blade. The TECHNICS 350SA is the smallest model, and it comes with foot-switch or push-button activation to help prevent operator fatigue. Mitering can be done at 45º right and 60º left.
Next, the Euromatic 370S Ferrous has a head that can rotate 45º and 90º left/right for optimal mitering. Finally, the Euromatic 370S-L Non-Ferrous takes the mitering back down to 45° left and right.
Our last category for cold saws is the automatic version. We offer two of these models (Euromatic 370PP and Euromatic 370PP-L), and they both use a 14.5-inch blade. The main difference is that the 370PP model can perform 45° and 90° mitering, and the 370PP-L can only perform 45° mitering.
For more details on our cold saws, check out this post.
Bandsaws
As for bandsaws, we have many models to choose from. The first thing you need to decide is whether you want a vertical model or a horizontal model. The main difference is that the vertical models expand upward, and the horizontal models expand outward or sit on a worktable/bench.
Our current lineup of vertical bandsaws includes the following:
14-10 Series (1 model)
Industrial (3 models)
Trademaster (1 model)
Work-A-Matic (1 model)
These machines are all built on sturdy bases, and the price points can suit a wide range of budgets. For more on our vertical bandsaw machines, check out this post.
As for the horizontal bandsaws, we offer four different types. These include the following:
Benchtop Horizontal (2 models)
Standard Duty (2 models)
Heavy Duty (2 models
Mitering (3 models)
The Benchtop model is our newest addition to our product lineup. It uses reverse cutting technology to help prevent overheating, and you can purchase the portable work stand to set it on. The largest and most powerful horizontal bandsaws are the mitering models.
For more on our horizontal bandsaws, check out this post.
Talk to Us
Do you have specific questions about a particular machine? For help making the right choice for your needs, talk to us. Get in touch with our experts for assistance today.