It is most important to select the proper model or type of manual cold saw for the application. Just because a certain model saw will cut material of a certain size, it may not be the right machine for the application. You must strive for a model that will give optimum cutting performance and minimize operator fatigue. Operator fatigue is most evident when cutting larger production runs, cutting of material with heavy cross sections or when miter cutting on a regular or continuous basis.
Dake Technics 250 Manual Pivot Head Cold Saw
Occasional Cut-Off Requirements on a Semi-Daily Basis.
This model is intended for small volume cutting of low carbon steels, Stainless steels and non-ferrous materials. If I were looking for a saw that was not going to be used for production use and is dedicated for smaller profiles, this is the saw I would use. A hobbyist would love the 10" model because you can use it anywhere since it's powered by standard 120-volt household power. Being the size it is, you could toss it in the back of your truck and bring the saw to the worksite instead of having to bring the work to the saw. It is much safer and more economical than a chop saw, so placing it in your garage or work cell would be the ticket to successful cutting just about anywhere.
The machine uses a 10" High Speed Steel blade that can be resharpened and cuts at 44 rpm, miters up to 45° L-R and is 120-volt single phase.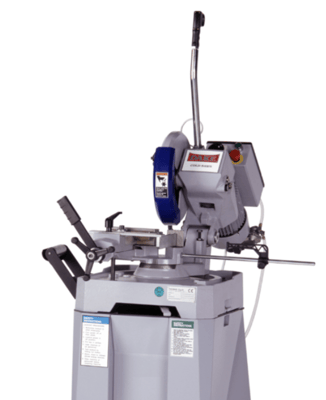 General Cut-Off Requirements on a Daily Basis.
The 315 model is designed for low volume production applications on a daily basis, for low carbon steel, non-ferrous materials and stainless steels within the stated capacities. If I were looking for a saw that is going to be used on a daily basis for cutting medium size materials and possibly frequent miter cuts the 315 suits the bill. This 12 ½" saw will do everything the 250 can handle plus much more. Even if you don't have 3-phase power you can get the same high quality results with less effort using the 120-volt model and if I do have 3-phase this will allow me more economical operation with 2 blade speeds allowing better cutting on different types of materials. Mitering capabilities are left and right from center to 45°. Vise with quick release lever for rapid vise action. Makes easier work for the operator and if he/she is running low production, he/she will appreciate the upgrade.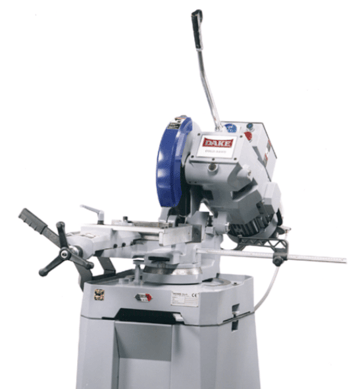 Continuous Cut-Off Requirements on a Daily Basis.
Dake 350 CE is the big daddy of manual cold saws. This 14" model is my choice when running production on the heavier material. This beast will miter virtually at any angle. It is a brute that will last through many different operator techniques and the most abusive applications.
If the ultimate finish is what you want, this model is your best friend with infinitely variable speed. This way, you can tune the rpm's for optimum cutting for your application on most materials.
This saw can do many things including slot cutting, and with a little practice, cutting a pocket-cut and "fish mouth" is not unheard of. Outstanding performance on low carbon steels, stainless steels, non-ferrous materials including plastics and thin wall tubing.
You got to love this model as it's an extreme workhorse of the manual cold saws.
In the next few weeks, we will look at choosing the right semi-automatic or fully automatic cold saw. With 5+ different models there's one for you. So, stay tuned!