Sawing is one of those fundamental operations in a metalworking shop. For those whose budget allows for it, owning both a cold saw and a horizontal bandsaw is the ideal solution. Both can help a shop increase production and are equally reliable machines.
Unfortunately, some companies must choose one over the other for economic reasons, so they need to understand each type's advantages and disadvantages. Making the wrong choice can limit a company's ability to attract new customers that require specific cuts in a particular kind of material. It can also hurt productivity.
To help your shop make the right choice, you should know how each saw operates and the type of work for which it is best suited. Then you can determine which saw fills your needs.
The type of material won't have much bearing on your decision
Both the bandsaw and cold saw are well-suited for either ferrous or non-ferrous materials. They have been designed with the features necessary for cutting aluminum, brass, copper, carbon steel, alloy steel, and stainless steel.
The size of the materials you typically cut could be a factor
If you cut a lot of larger material, a horizontal bandsaw would be a better choice since it generally has a much larger cutting capacity.
Cold saws are limited to handling pieces that are about 6" in diameter or less. You could make your decision based solely on material size if you're working with larger-sized materials.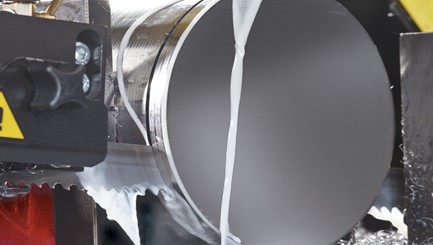 Larger diameters are better suited for a horizontal bandsaw. Photo credit: Best Power Saws
You will get more accurate cuts from a cold saw
If you need accuracy in your part's length, the cold saw has a substantial advantage over the bandsaw. Not only are the cuts accurate, but they are straight. The flexible bandsaw blade tends to drift through the cut, resulting in a slightly angled and less precise cut.
If you are cutting material to be machined to length later, the bandsaw works well. But if your goal is to have finished-to-length parts right from the saw, the cold saw is a better choice.
The cold saw is the hands-down winner if the finish is important
The finish from a cold saw cut would resemble a milled finish (See photo below). When coupled with the cuts' accuracy, you can likely avoid secondary operations such as deburring or facing.
Eliminating secondary processes that require extra labor hours is a cost-cutting advantage for the cold saw.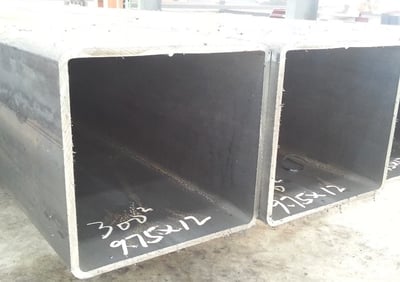 Square tubing cut to length with a cold saw. Photo Credit: Cold Saw Manufacturing
Miter and angle cuts are more straightforward on a cold saw
If you need to make lots of angle or miter cuts, the cold saw is your better option. Although some bandsaws are built to cut miters, many shops will not use them for that.
Instead, they choose the circular band saw because it is efficient and easier to use.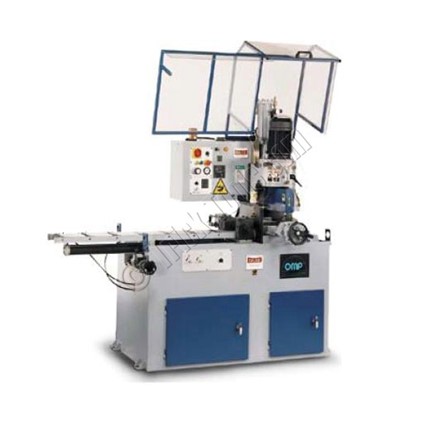 The Dake Model Euromatic 370PP-L Automatic Cold Saw with head that rotates 45 degrees
Which saw is more economical?
The initial price of a cold saw is usually higher than a comparable bandsaw. Also, the price of a cold saw circular blade would probably be higher than a bandsaw blade.
But keep in mind that cold saw blades can be sharpened up to 30 or 40 times, while you must discard a bandsaw blade when it's no longer usable. Yet, in the long term, neither saw has a decided edge in economy.
In conclusion
Because of their quality of cut and accuracy, cold saws have become quite popular over the last decade, especially with fabricators. They work on all steel grades and lend themselves to cutting thin-wall tubing where clean and straight cuts are required. Since they can make cuts that do not need a secondary finishing operation, they are an efficient choice, provided that the material is not too large.
However, for metalworking shops looking for versatility, affordability, and a more comprehensive range of size capabilities, a bandsaw would likely meet their needs.
Bear in mind that purchasing a saw is a long-term investment. So, think about your shop's present and future needs as you are deciding. The right saw will help you increase your profits and efficiency for many years.
All saws are not created equal
The Dake line-up of cold saws includes manual, semi-automatic, and automatic cold saws. They are all equipped with a heavy-duty spindle and gearbox assembly to ensure many years of trouble-free performance.
Similarly, the four horizontal bandsaws have a rugged, double frame construction to withstand the everyday abuse that saws receive in many metalworking environments. Since 1941, these saws have provided problem-free performance along with maintenance-free operation.
To find out more, fill out our contact form, call us at 1-800-937-3253, or email us.