One of the most groundbreaking inventions in the metalworking industry was the creation of the horizontal bandsaw.
It's long, sharp blade is covered in teeth, and it slices through metal effortlessly. Here at Dake, we have several different types of horizontal bandsaws for you to use in your metalworking shop. In this handy guide, we will go over a few of the most popular models.
Before starting any metalworking project, it's important to remember safety first rules especially when you are running metalworking equipment.
Even if you are familiar with the rules, refresh your memory by going to the Occupational Safety and Health Administration (OSHA) and/or read the tips on the Machine Accidents website which outlines a list of do's and don'ts to reduce the risk of metalworking accidents.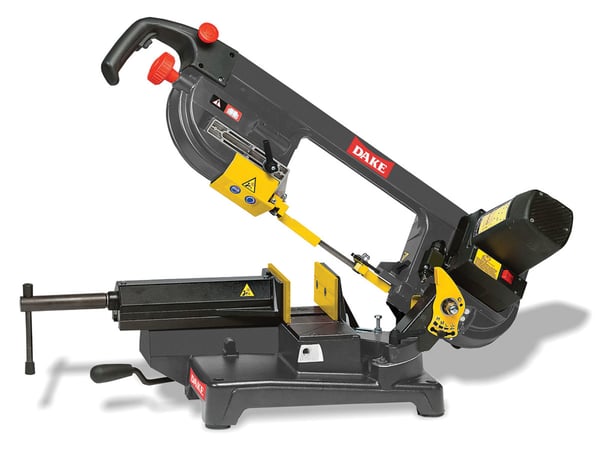 Dake SE 5x6 RCT Benchtop Bandsaw
This piece of equipment is quite a cool concept. RCT stands for Reverse Cutting Technology. A conventional bandsaw blade runs counterclockwise. However, the RCT Benchtop Bandsaw blade runs clockwise.
It is designed like this to push the metal clippings away from the cut instead of dragging them into the motor, through the pulley system, and into your cut. The result is less thermal output and a longer blade lifespan. It also gives you cleaner, more accurate cuts.
Although this auricular model is small in stature, it is quite powerful. It's a semi-automatic machine that is often used to cut metal rounds, tubes, and flats.
The motor produces 110-volts of power and 2.5 horsepower and has variable cutting speeds to suit your specific needs. It also has dual cutting modes and mitering capabilities from 0°-45°. It comes standard with a bi-metal blade, an end-of-cut off switch, an electronic blade speed regulator, a blade tension indicator, a quick-release vise, a cast bed, and a cutting bow.
Dake SE912 Horizontal Bandsaw
If you are looking for a standard-duty horizontal bandsaw, one of our most popular machines is the SE912 model. It provides extremely accurate cuts due to its vibration-free cast table bed, steel base, horizontally-mounted guide arms, adjustable blade guides, recirculating cooling system, low voltage controls, and wheels. It has a 9-inch round cutting capacity, you can execute wet or dry cutting more efficiently than ever before.
This machine also uses a hydraulic control to feed materials into the machine at variable speeds, and the head can be adjustable for many different cutting options. Sitting on four wheels, you can effortlessly move this horizontal bandsaw around your metalworking shop with no problem.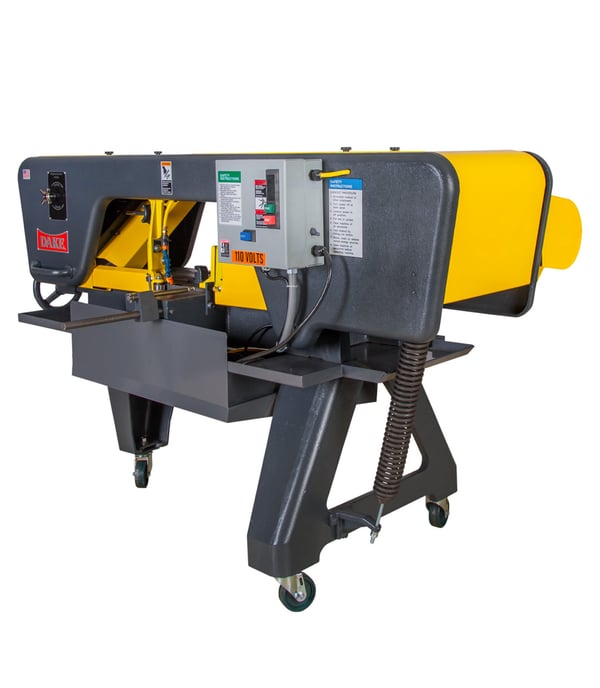 Dake JH10W3 Horizontal Bandsaw
If you are in need of a horizontal bandsaw that can do more, you may want to look at our heavy-duty models such as the JH10W3 machine.
Featuring a dual cast head frame that was designed for large capacity cutting, it can push out 220-volt or 440-volts. Standard equipment includes a vise, magnetic starter, blade tension, frame feed control, and a flood coolant system.
The JH10W3 model has a pivot bar for extra rigidity and a longer lifespan. It also features a V-belt-driven gearbox that uses step pulleys to change speed quickly.
The hydraulic head feed allows for hands-free cutting, and the machine will shut off automatically after the cut is complete for safety reasons. The low-voltage magnetic starter prevents thermal overload, and the guide arms allow for perfectly straight cuts.
Dake SE 10 DM Horizontal Bandsaw
If you need a mitering bandsaw, we have a trio of models to choose from here at Dake. For example, the SE 10 DM mitering bandsaw is a heavy-duty model that uses a bi-metal blade, a hydraulic-controlled down-feed, and an automatic shut-off switch.
The 22-volt motor produces 2.75 horsepower, and it has mitering capabilities up to 60°. Standard equipment includes the steel base, the bi-metal blade, a traversing/manual vise, coolant, and a stock stop gauge.
The hydraulic-controlled downed has a manually-adjustable return, and the entire machine is ergonomically designed with the comfort of the operator in mind. The low-vibration gearbox is driven by metal gears. It does not use belts or pulleys, so it has a much longer lifespan.
Changing a Horizontal Bandsaw Blade
Now that you understand the four different categories of the horizontal bandsaw, it's time to learn how to change out the bandsaw blade. There are many different bandsaw blades for you to use in all of your metalworking endeavors. Here's how you can change them out.
Step #1 - Lift the head up and remove the thumbscrews.
Step #2 - Open the top covers on the left and right sides.
Step #3 - Loosen the thumbscrews and remove the half-moon drip pan.
Step #4 - Loosen the wheel bolts. Then remove the idle wheel and drive wheel covers.
Step #5 - Then, remove the left and right blade guards along with their thumbscrews.
Step #6 - Next, remove the brush chip brush pads.
Step #7 - Now, it's time to loosen the tension on the blade.
Step #8 - Make sure that you're wearing protective gloves, and pull the blade out from the rear guard.
Step #9 - Push the blade down off the idle wheel and take off the blade guides.
Step #10 - Holding the blade from the rear blade guide, flip it off the drive wheel and remove it from the bandsaw machine on the left side.
Step #11 - Uncoil the new blade and place it under the head. Then loop it around the rear blade guard and drive wheel.
Step #12 - Feed the new blade into the guides, and make sure it is seated below the lip of the drive and idle wheels.
Step #13 - Tighten the blade tension screw while holding the blade in place.
Step #14 - Readjust the guides as needed.
Step #15 - Replace the chip brush pads and all the guarding pieces.
Step #16 - Check the blade tracking and make any necessary adjustments.
Find What You Need
From beginners to professionals, Dake has everything you need to enhance your metalworking shop. We've got more than just horizontal bandsaws. Our inventory is full of handy pieces of machinery such as vertical bandsaws, arbor presses, vises, belt grinders, cold saws, and so much more. If you want to build the perfect metalworking shop, get in touch with our experts here at Dake today.