Metalworking techniques and processes have not changed much over the last century. Arbor and hydraulic presses remain mostly unchanged, and it is a big deal anytime something new hits the market.
That's why we are excited about the newest additions to the Dake family - the Benchtop Horizontal Bandsaws. In this post, we will walk you through everything you need to know about our latest models.
Benchtop Horizontal Bandsaw Model SE 5X6 RCT
The RCT Benchtop Bandsaw is a petite size semi-automatic model that packs a punch. Do not let the size of this machine fool you. It features state-of-the-art reverse cutting technology (RCT) that makes cutting metal much faster and cooler.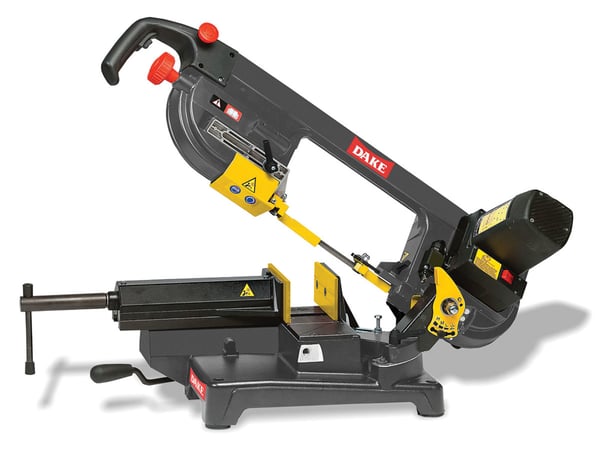 You won't have to worry about the machine overheating. Powered by a 110-volt motor that produces 2.5 horsepower, this machine has two variable cutting speeds, two cutting modes, and the ability for mitering at a range of 0°-45°.
Its compact size makes it easy to move to a job site where you can quickly produce metal rounds, flats, and tubes. You don't need to go back to the workshop to use this versatile machine.
Standard equipment on the RCT Benchtop Bandsaw includes a cast bed, cutting bow, blade tension indicator, quick release vise, bi-metal blade, 2.5 HP motor, electronic blade speed regulator, and a cut-off switch.
It offers variable blade speeds ranging between 114 / 262 FPM, and it uses a gravity-down feed for hands-free cutting. This allows for much safer operation. The blade tension indicator comes with a clutch for perfect positioning every time, and the quick-release vise allows for easy changeovers and setups.
The electronic speed regulator keeps the blade spinning at a constant speed to prevent the machine from being bogged down, and the shut-off switch features trigger control, e-stop, and blade cover interlock to instantly turn off the machine.
Benchtop Horizontal Bandsaw Model SE 5X8
Another new model in our horizontal bandsaw lineup is the SE 5x8 benchtop model. It is very similar to the RCT model. The main difference is that it does not have reverse cutting technology. Another variation is the motor.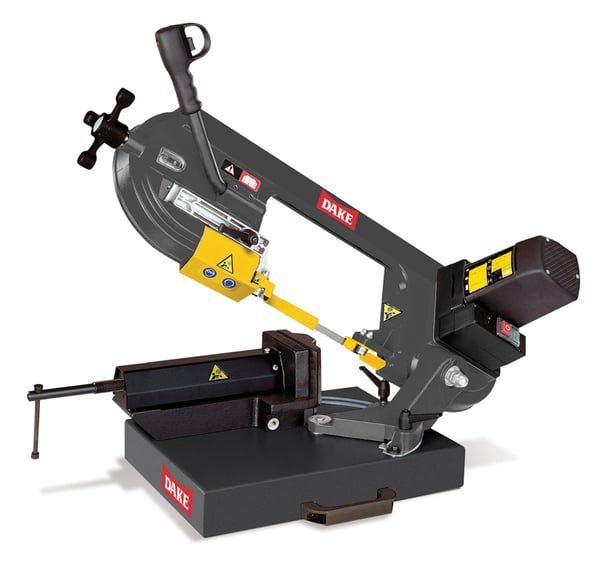 While the RCT model uses a 2.5 HP motor, this particular machine uses a smaller 110-volt motor that pushes out 2 horsepower. It still offers two cutting speeds and a mitering range of 0°-45°. It also offers a direct drive for precision. This portable unit can be taken to any job site and can be used to make metal tubes, flats, and round on-site quickly.
Standard equipment includes a cast bed, cutting bow, cutting speeds/feed guide, blade tension indicator, bi-metal blade, 2HP motor, and a direct drive gearbox. As a dry cutting bandsaw, it offers two blades speeds: 196 / 262 FPM.
The blade tension indicator is designed to ensure the proper fit of the blade every time you use the machine, and the base comes with integrated screw-adjustable vises for enhanced positioning. The "roto-translating" head swivel allows for a larger cutting capacity, and this particular bandsaw uses a manual feed.
What Can You Do with the RCT Benchtop Bandsaw?
Due to the advanced reverse cutting technology that comes with the RCT Benchtop Bandsaw, you can accomplish a lot more in a shorter amount of time than with a traditional benchtop model. For example, after cutting metal rods to the appropriate size, you can immediately thread a nut on the rod.
You don't need another machine to finish off the edges of the rod or smooth anything out. The RCT Benchtop Bandsaw provides you with a smooth, clean cut without any sharp or jagged edges.
Watch one of our Dake experts cut metal rods and thread a nut onto one in the quick how-to video below. You can also see just how smooth and clean the cut on that rod is after undergoing the RCT Benchtop Bandsaw cutting process.
If you think you can only cut small metal objects with this machine, think again. The RCT model has a 6-inch capacity for round, square, and rectangular metal pieces.
That means that you can slice through square-shaped pieces easily. To watch this machine slice through a larger piece of metal, check out this short video.
What Is the Quick Release Vise?
Traditional vises need to be screwed into place and unscrewed to come off. While the SE 5X8 model uses screw-adjustable vises, the RCT model makes the process so much easier.
Featuring the quick-release vise, you can change out materials in a flash. To see it in action, click here and watch our short video that explains how to use the quick release vise feature.
Benchtop Bandsaw Portable Work Stand
If you are considering purchasing one of our benchtop models, you may also want to consider the Benchtop Bandsaw Portable Work Stand. Designed specifically for the Dake lineup of benchtop horizontal bandsaws, it can hold up to 110 pounds.
Built out of heavy steel tubing, it is lightweight and durable. The height is easily adjustable for your comfort, and safety locks are provided to keep the stand from folding while in use. The best part about this work stand is that you can quickly fold it up and store it out of the way when you're done using it.
We Can Customize Machines and Parts
Here at Dake, we manufacture all of our metalworking machines. This means that we have the means to build custom machines for specific jobs. If you have a project in mind that requires a very specific machine, give our experts a call.
Tell us all about what you want to create, and we can come up with a solution to get you a customized metalworking machine that can complete the tasks quickly and efficiently. Also, if you have a vintage metalworking machine that needs a part replacement, we can get one shipped to you.
For more information on Dake products and services, get in touch with us today.