The concept of a bandsaw dates all the way back to 1809 in England. Although there have been many trial and error patents and designs, two types of bandsaws have withstood the test of time becoming the most reliable machines used today. These are the horizontal and vertical bandsaws.
In this post, we will focus on vertical bandsaws available here at Dake. Our industrial-strength machines are used to slice through metal like a hot knife through butter.
Designed for long-lasting performance and stability, these machines all use a wobble-/vibration-free frame to ensure a precise cut every time. Let's take a closer look at each model.
14-10 Series Vertical Bandsaw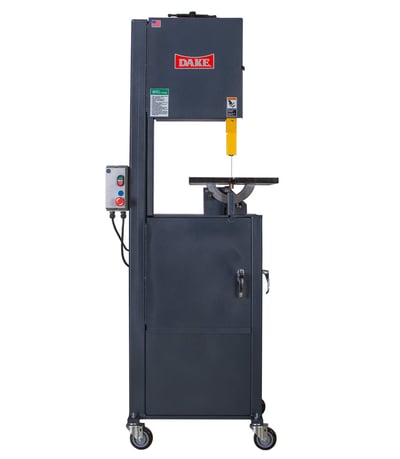 If you are looking for a vertical bandsaw that offers quick blade changes and multiple blade speeds, the model 14-10 is a great place to start.
It comes standard with a 14-inch throat, a steel base, a machined table, one bandsaw blade, and bronze bandsaw guides. You can choose between the single-phase 110-volt/220-volt motor or the 3-phase 220-volt/440-volt motor. Each one offers four adjustable speeds to suit your cutting needs.
The workshop floor space required for this particular machine is measured at 24-inches by 28-inches, so it can fit nicely inside a smaller metalworking shop. Weighing 625 pounds, it rides on wheels so that you can easily move it to your desired location.
Work-A-Matic Vertical Bandsaw
The Work-A-Matic SXC model bandsaw is one of our personal favorites here at Dake. Essentially, it's a gravity feed saw that can operate entirely hands-free. It's the safest model available on the market.
Standard equipment includes C-Clamp assembly, a steel base, cutting chart, head lock, miter gauge, hydraulic feed control, and a single bandsaw blade. As with the 14-10 model, you also have the freedom to choose between a single-phase 110-volt/220-volt motor with a blade speed range of 70 to 140 fpm or a 3-phase 220-volt/440-volt motor with a blade speed range of 270 to 540 fpm.
The frame and base are both built from heavy-duty, welded steel for better rigidity. You can switch between the cut off saw, contour saw, and rip saw blades quickly, improving the overall production time.
For emergency start/stop situations, the low voltage controls with E-stop and thermal overload come in quite handy. With four adjustable blade speeds and infinite blade pressure adjustability, you will be amazed at what you can accomplish on this vertical bandsaw.
For your workshop, you will need to clear a space measuring about 29-inches by 40-inches. The machine weighs 810 pounds. While it isn't the heaviest, you will certainly need to assistance of a lift to get it off the delivery truck.
One more convenient feature on Work-A-Matic is the method of moving it. It sits on four wheels, so you can slide it across your shop wherever you need it.
Trademaster Vertical Bandsaw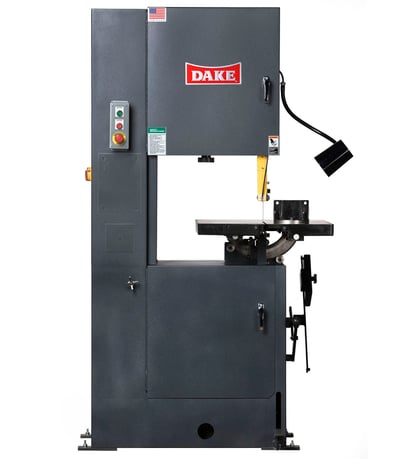 If you are looking for a high-performance vertical bandsaw at an affordable price, look no further than the Trademaster model.
Featuring a 19.5-inch throat, steel base, miter gauge, work lamp, chip blower, roller blade guides, and a single bandsaw blade, this machine has everything you need to get started slicing through metal. It uses a 3-phase 220-volt/440-volt motor to push our 1.5 horsepower, and it has a blade speed range of 50 to 500 fpm.
The power feed/tilt table combination allows for more versatility and freedom while cutting. This machine needs 40-inch by 32-inches of floor space, and it weighs about 1,150 pounds.
Industrial Vertical Bandsaws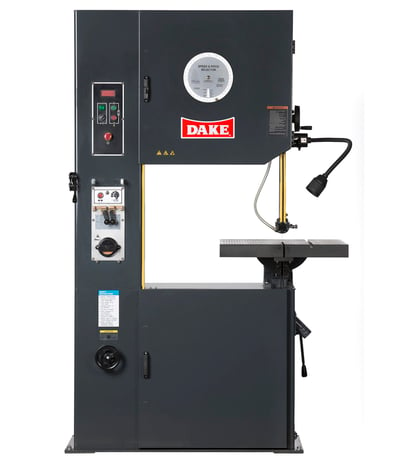 Moving on to the heavy-duty Industrial Bandsaws category, you will find three unique machines that you can choose from. We will begin with the smallest and work our way up to the largest.
First is the V-16 model. This heavy-duty machine was created to handle large production pieces. It comes standard with a 15.5-inch throat, heavy-duty frame, tillable worktable, blade grinder/welder/cutter, chip blower, work lamp, digital tachometer, interlocks for the door, blade speed/pitch selector, and blade guards.
The 3-phase 220-volt/440-volt motor generates 2 horsepower, and the blade spins at 82 to 3,950 fpm. This machine needs 37-inches by 26-1/2-inches of floor space, and it weighs approximately 904 pounds.
The V-26 model has a larger 26-inch throat, heavy-duty frame, rip fence, work light, blade shear/grinder/welder, digital readout speed indicator, digital tachometer, blade tension indicator, chop blower, blade brush, and one bandsaw blade.
Using the same 3-phase 220-volt/440-volt motor, it produces 3 horsepower and a blade speed ranging from 50 to 5,000 fpm. Weighing 1,540 pounds, this machine needs about 51-inches by 32-inches of floor space.
Finally, the V-26E is very similar to the V-26. The only difference is the electronic power feed table. Simply put, it makes feeding the metal materials into the machine much quicker and easier.
Safety First
Look over the OSHA (Occupational Safety and Health Administration) guidelines every now and then to refresh your memory on safety regulations. You can visit the Machine Shop Safety website for a complete list of do's and don'ts in the machinery world.
We trust this guide to Dake vertical bandsaws has helped you narrow down your choices for your workshop. If you have other questions about our metalworking machines or you need to have a customized machine made for a specific project, our experts can assist you.
Since we manufacture our machines right here at Dake, that means we can customize them for your specific needs. Simply get in touch with us and let us know what you are planning to do. We can come up with the best customization to suit your next and future projects.