Metalworking is an art form. As with any kind of art, there is a wide range of tools that you can use to create various forms of metal works.
Here at Dake, we take great pride in our vast selection of machines that are designed to help you do multiple tasks with ease. One of those machines is the laboratory press. Invented for laminating, molding, testing, and other jobs, this press is a helpful addition to your metalworking shop.
We have five different laboratory presses here at Dake. In this post, we will go over everything you need to know about these metalworking tools.
Laboratory Press Model 44-225
As the smallest laboratory press in our product lineup, the 44-225 model is great for hobbyists and folks with less space to work with. It has a 16-inch by 11-inch base, stands 36-inches tall, and weighs about 425 pounds.
It features an isolated control panel that will not overheat, electric platens, separate temperature controls for each platen, a hydraulic system, and a dual-position rapid advance ram. It uses a 110-volt/220-volt single-phase motor to press up to 25-tons.
As for performance, it produces 2,900 watts, 25 amps, and it features a 5-inch stroke. Daylight between each platen is 5- to 10-inches.
The 9- x 9-inch platens are pre-wired into the electrically-cooled control panel. They are self-leveling made of ground steel for optimized precision. All of the machine's thermal components are replaceable, and the temperature can be controlled from 100˚ to 600˚F.
High-pressure with low volume output allows for easier operation, and the 44-225 can hold pressure for an extended period of time. You also have the option to release the pressure quickly or gradually with the side release valve.
Laboratory Press Model 44-226
The 44-226 model is very similar to the smaller 44-225 laboratory press. It has all of the same features, but it is a bit heavier than its sibling.
Measured at the same dimensions as the 44-225, it weighs 25 pounds more for a total of 450 pounds. The electric platens are 9- x 12-inches, and the machine is protected against thermal damage.
All of the standard equipment and features from the aforementioned model carry over to this one, and its maximum pressing power is capped at 25-tons.
Performance-wise, it generates 3,600 watts, 30 amps, and it comes with the same 5-inch stroke. Daylight between each platen is still 5- to 10-inches.
Laboratory Press Model 44-250
Many of our laboratory presses share the same standard equipment and features. The differences are mostly seen in the size, weight, and pressing power of each model.
The 44-250 model is a solid, mid-size machine that is great for advanced metalworkers and people with a bit more space to work within their shops. The base measures 18-inches by 16-inches, it stands at 39-inches, and the weight has nearly doubled. Weighing 825 pounds, this is a hefty machine, to say the least.
Using a 220-volt/440-volt 3-phase motor, the 44-250 model offers a whopping 50-tons of pressing power. It generates 4,800 watts, 20 amps, and it features a 6-inch stroke.
The 12-½- x 12-½-inches electrically-cooled platens are pre-wired, self-leveling, and made of steel just like the previously mentioned models, and the daylight between each platen is 6- to 10-inches. All of the additional standard equipment and features carry over to this machine.
Laboratory Press Model 44-251
In the last few years, there is a trend going on with our laboratory press selection. Each one just keeps getting bigger. This is to accommodate various workspace sizes. The 44-251 weighs 925 pounds, and the dimensions are the same as the 44-250 model.
It also uses the same 220-volt/440-volt 3-phase motor, and it has the same 50-ton maximum pressing power. Producing 7,200 watts and 30 amps, it comes with a 6-inch stroke.
The platens are 12-½- x 19-inches with daylight between each on at 6- to 10-inches, and all of the other features we talked about before also carry over once again.
Laboratory Press Model 44-275
If you have a large metalworking shop or you need a machine that can handle bigger projects, then the 44-275 model is right for you. This machine is the largest laboratory press in our lineup.
The base is measured at 26-inches by 21-inches, it stands 51-inches tall, and it weighs just under a ton. Once you pick a spot inside your workshop for this machine, it's going to stay there for a long time. The maximum pressing power is 75-tons, so you can do just about anything on this machine.
Using the same 220-volt/440-volt 3-phase motor and the same standard equipment, the 44-275 features 19- x 19-inch platens to handle the biggest laminating, molding, and testing jobs.
It generates 10,800 watts, 26 amps, and it features the same 6-inch stroke. The daylight between each platen is 6- to 12-inches.
Customization
If you have found yourself perusing through our product pages and haven't yet found the right machine for you, don't fret. We can help.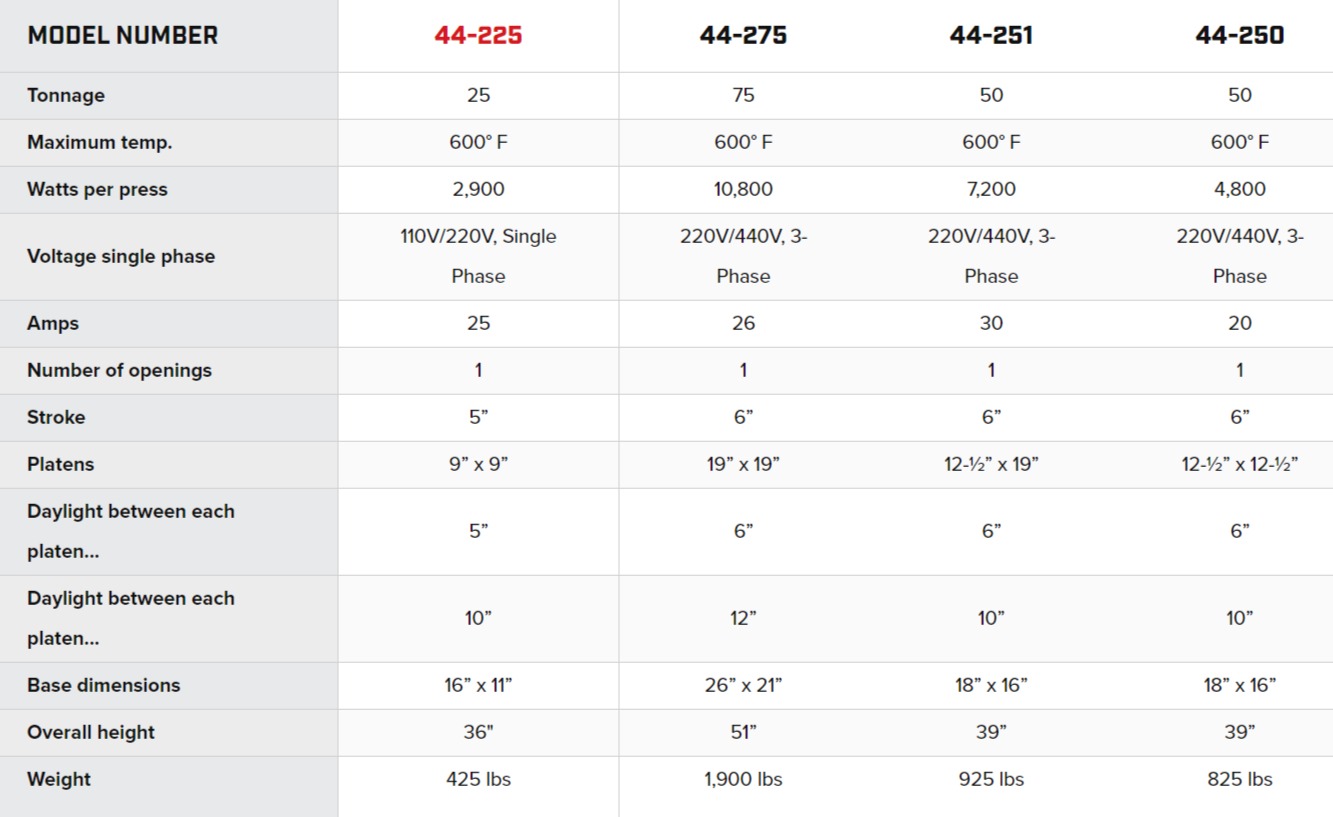 Since we manufacture our machines, we are able to build custom models to suit your specific needs. If you have a particular project in mind that requires a specific machine, talk to our experts.
Let us know what you want to do, and we can go over all the details of what type of customization you will need.
Talk to Us
If you have recently purchased a Dake metalworking machine and need some assistance, our product experts are happy to help.
Whether you are unsure of how to operate the machine or you need advice on the proper care and maintenance, get in touch with our team today for help.