Vises are probably one of the most widely used metalworking tools in the world. Designed to clamp down on an object and hold it securely in place, vises provide stability for metalwork to be done safely.
Here at Dake, we offer two different types of vises for all of your metalworking needs. In this handy guide, our experts will help you understand everything there is to know about these useful tools.
What Is a Vise?
A vise is a mechanism that consists of two parallel jaws designed to hold objects in place. One side of the jaw set is fixed, and the other side is moveable. This is possible due to a lever and screw that allow the vise to open and close.
You can adjust the grip of the vise to hold objects of varying sizes as well. Oftentimes, you will see vises used in metalworking, woodworking, and even engineering.
Fun Fact: In England, the vise is spelled differently. They call it a vice.
The DP-4 Drill Press Vise
The first vise that we offer in our product selection here at Dake is the DP-4 Drill Press Vise. It is a 4-inch vise that can open 3-1/2-inches to hold objects in place during metalworking tasks. It features a manual screw operation, and it has a jaw height of 1-1/8-inches. The stationary side of the jaw set is a V-notch, which makes this particular vise perfect for clamping onto round objects.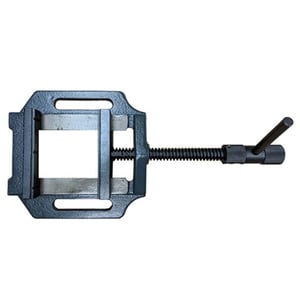 Its heavy cast iron body is sturdy and reliable, and you can quickly adjust or remove it via the handle. To complete a full turn, it's about 1/4-inch of travel, and the smooth-action screw provides you with the best control over the mechanism.
The DP-4Q Drill Press Vise
If the first vise was too small for your projects, don't worry! We've got another model in our product lineup that can accommodate larger objects.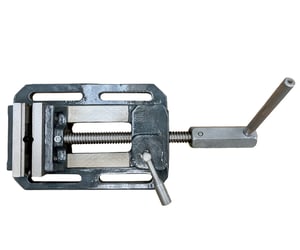 Meet the DP-4Q Drill Press Vise. This 4-inch model offers 4-1/8-inch of opening space and a jaw height of 1-3/8-inches. Again, it uses a V-notch shape to clamp around circular objects as well.
The heavy cast iron body is still adjustable to suit whatever project you are working on. It's also easily removable due to the quick-release jaw mechanism.
A complete turn is about 1/4-inch just like the smaller model, and the smooth-sliding screw makes the process of clamping very easy. You won't have to worry about putting out your should trying to clamp down on an object.
Metalworking Vs Engineering Vises
While you might think that different vises are needed for metalworking vs engineering, this simply isn't the case. Oftentimes, metalworking vises are referred to as engineering vises.
They can serve a dual purpose and be used in many different kinds of projects. So, when you purchase a Dake vise, you can rest assured that its versatile nature will allow you to use it in many different applications.
Vises Vs Drill Press Vises
If you noticed before, the two vises we have here at Dake are both drill press vises. A traditional vise is simply a very strong clamp.
A drill press vise is fastened onto your drill press table and used to hold metal objects in place as the drill cuts holes into it. Drill press vises are stronger and can handle more pressure than the average vise.
Dake Drill Presses
Here at Dake, we offer both bench and floor model drill presses. Our bench models are the TB-16 and the TB-16V.
Each machine has a 5/8-inch drill capacity, and they are both the same size and weight. The difference comes with the spindle speed range. The TB-16 has a range of 240-3,400 rpm, and the TB-16V can reach speeds from 545 to 4,000 rpm.
As for the floor models, we have six different machines to choose from. They have drill capacities ranging from as small as 1/8-inch to as large as 1-1/4-inch.
The six unique floor models that we currently offer are:
SB-16
SB-25
SB-25V
SB-32
SB-32V
SB-250V
If you would like to learn more about each bench and floor model drill press that we offer, you can check out this blog post. We go through the entire line up of drill presses, explaining the standard equipment, features, and even sizes.
You can the perfect drill press for your metalworking shop, and then you can choose which vises you will need to go with the drill press.
Tutorials with Dake
If you have invested in any of our machines, then you need to take advantage of our expansive video library.
Many of our customers' frequently asked questions have been answered in a video that we've posted. You can find videos on our drill presses and see them in action. You can learn more about our other products as well.
Get It Done
Our company has been around since 1887, and we've had plenty of time to perfect our lineup of machines. From arbor, hydraulic, and drill presses to something as simple as a vise, you can find everything you need to optimize your metalworking shop right here.
What's the best part about buying from Dake? Since we manufacture our machines, that means we can create customized machines for your next project.
If you need a specific piece of equipment to complete a new job, we can build it for you. Our modifications are done by experts in the metalworking field, and we take great pride in our machines.
If you need help figuring out what kind of customization you need done to a machine, give our team a call. Let us know what you're wanting to do, and we will advise you on the course of action that is needed. For other questions, fill out our easy-fill contact form today.