Here at Dake, we offer a variety of advanced machinery for metalworking, but did you also know that our machines can be used in other industries as well?
For example, our selection of tire presses is perfect for mechanics, farmers, and anyone in the automotive industry. You don't have to know how to weld steel in order to use these machines.
In this handy guide, we will explore the various tire press machines that we have in-stock and explain how to use them.
But before attempting to work with presses of any kind, read through these safety rules and guidelines to keep you safe.
Electric Tire Presses
If you have recently found yourself perusing through our product selection online, you may have noticed that every type of machine has a category that is home to several variations of that particular machine.
This is meant to help you find the perfect match for your specific workshop needs. With tire presses, this is still the case. We have two tire press categories: electric and air-powered. Let's begin with the electric models.
First, we have the 33-672 model with a 150-ton capacity (see above picture). It can easily remove large tires from the wheels with very little effort. Built with a steel frame, this machine includes removable table pins and a moveable upper head channel that provides 15-inches of travel.
The removable table pins are used to position the moveable head channel four different ways, giving you more freedom and range of motion. Powered by a 3 phase 220/440-volt motor, it generates 10 horsepower.
It also comes with a crack, pressure gauge, and metal guarding. Farmer and mechanics can make good use of this model because it can easily handle tractor tires. With an 18-inch stroke and 17 IPM speed, this large machine weighs about 3,600 pounds.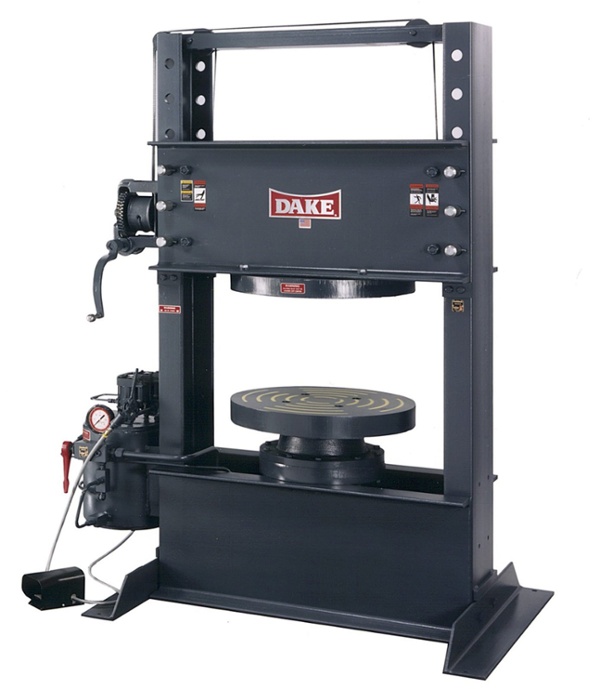 Model 33-493
150 ton capacity
The other option is the smaller 33-493 model. Don't let its size fool you. It still has a 150-ton capacity. The difference is in the amount of power. This model can only get an IPM speed of 2-3/4, and it is powered by a 3 phase 220/440-volt motor that makes 2 horsepower.
Standard equipment includes the steel frame, removable table pins, moveable upper head channels, and crank. There is no pressure gauge on this model, and it only weighs about 3,000 pounds.
Air-Powered Tire Presses
This may come as a surprise, but the air-powered tire press has the same capacity as the electric tire presses: 150 tons. There is only one model here at Dake, and it is the 33-587. It functions similarly to the electric tire presses and has much of the same standard equipment.
The difference is that it doesn't use a motor; it uses air. Because of this, it has an IPM speed of only 1-1/2. As far as weight goes, it sits right in-between the two electric tire presses at 3,350 pounds.
Using an Electric Tire Press
Step 1: Before you can put your electric tire press to work, you first need to open the protective gate. The ones you will find on our machines are bright yellow, so you can't miss this step.
Step 2: Turn on the lights that illuminate the tire press workspace. They are positioned on the left, right, and center of the machine.
Step 3: Place the tire into position inside the machine.
Step 4: Close the protective gate.
Step 5: Press the green button on the side of the tire press to turn the machine ON.
Step 6: Push the lever down and the ram will begin the travel upwards.
Step 7: Once the limit switch is triggered by the machine, it will shut off automatically.
Step 8: Push the red release lever down, and gravity will bring the ram back down into its original position.
Step 9: To change positions, you can pull the removable pins out to raise the table.
To see the process of using an electric tire press, check out our video on the 33-672 model.
Choosing a Tire Press
By now, you've probably noticed that all three of our tire presses have a 150-ton capacity. So, how do you decide which one is best for your workshop?
Often, we see that the deciding factor comes down to the strength and speed of the pressing. If you want a tire press that is more powerful, the 33-672 model offers 10 horsepower while the 33-493 model only produces 2 horsepower.
Also, don't forget about the mid-level air-operated 33-587 model that can still handle large tires.
Safety Features
One of our top priorities here at Dake is making sure that we manufacture machines that are safe to operate.
As we mentioned briefly before, the electric tire presses both have a bright yellow protective gate on the front and back. If you open the gates while the machine is working, it will shut off automatically to help avoid any injuries. It's important to note that the tire press will not work if either gate is open.
There is also a limit switch located inside the back of the machine. Once the ram triggers the limit switch, the machine will shut down automatically. Inside the machine, you will notice metal guarding. These were installed to protect the motor from any falling debris.
Custom Metalworking Machines
Our company was founded in 1887, and we have been building the most reliable metalworking machines in the industry. Many of our machines from back in the day are still being used in production today.
Not only do we still offer the same high-quality machines, but we can also provide parts for vintage machines. You don't have to purchase an entirely new press if something simply needs to be replaced on your grandfather's press. Just give our experts a call, and we will get the part you need shipped out to you.
As a manufacturer, we can also build customized machines to suit your needs. If you have a project in mind that requires a specific machine, tell us about it. We will work with you to create the perfect metalworking machine for your next project.