Metalworking press machines require maintenance just like any other machine that sees daily use.
However, various presses require different maintenance procedures depending on their function and the kind of mechanisms they contain.
In part two of our guide to proper press maintenance, our team of experts will share with you our recommended best practices for performing routine and operational maintenance on tire presses, C-frame bench presses, and laboratory presses.
If you haven't read part one of our press maintenance guide, you can do so by clicking here.
Tire Press Maintenance
Sometimes called an automatic vehicle tire changer, the tire press is a very straightforward machine. It serves a single purpose, and it does its job to perfection. This machine was designed to quickly remove rubber tires from metal wheels. It can handle tires from compact coupes to massive tires on tractors. In order to keep this machine running smoothly, there are a few maintenance procedures that you should incorporate into your routine.
Before you begin any type of maintenance on this particular machine, you need to unplug it and break the lead 3 or 4 times to release all of the air pressure that is trapped inside the circuit. You don't want any sort of accident with this powerful model.
Once a week, you need to clean the turntable. You can do this using diesel fuel to help prevent a buildup of dirt. You also need to lubricate the clamp sliding guides once a week with grease.
As for monthly maintenance, you should top off the oil level inside the lubricator tanks and ensure that the oil is being injected into the appropriate reservoir at the correct time. If oil delivery falls short, the screws may need to be tightened.
If you recently purchased one of our tire press machines, you will need to tighten the clamp screws on the turntable after the first 20 days. If you lost power to your shop due to an outage or inclement weather, you will need to tighten the drive belt before resuming operations.
C-Frame Bench Press Maintenance
C-frame bench presses sit in a sub-category of hydraulic press machines. These workhorses have the inner workings of a hydraulic press, but they are designed differently to accommodate a variety of tasks. Caring for a C-frame bench press is similar to maintaining a typical hydraulic press, which we covered in Part One of our handy maintenance guide.
Most metalworkers invest in a C-frame bench press because they want to keep the workflow running without interruptions. If this is you, then there are a few maintenance practices that you need to perform daily in order to keep things functioning properly.
First, make sure there are no oil leaks on any of the hydraulic lines. Wipe away any oil buildup, and be sure to tighten any loose fittings. Leaking oil is not something that bodes well for any sort of hydraulic press. Plus, if you keep the fittings and lines clean, you can spot leaks sooner when they occur.
Next, make sure that your oil levels are full to the max every day and that the bolts in the tooling area are tight. Lubricate the guided platens daily as well, but don't use grease on them. The front, back, and sides of ram need to be cleaned daily, and the oil temperature should remain steady at around 120°F.
Pro Tip: If you find that your oil temperature is running too high, you can incorporate water or air coolers to bring the temperature to the appropriate degree. Also, be sure to replace any faulty electrical components immediately.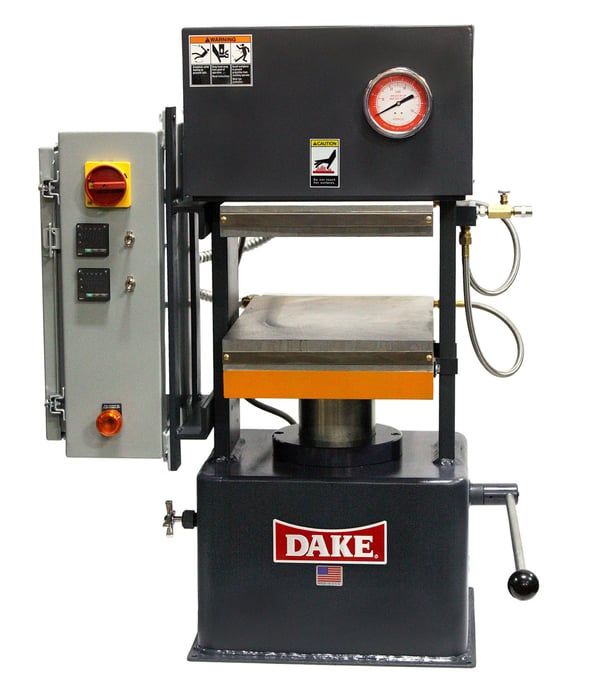 Laboratory Press Maintenance
Another sub-category of hydraulic presses is the laboratory press. Perfect for lamination, molding, testing, and other tasks, these machines need similar maintenance as the C-frame bench press and the original hydraulic press.
Before you begin, you will first need to bleed all of the air pressure from the machine. Then, turn the press off and unplug it from its power source. Open any floating platen before you start the maintenance process. Metalworking press machines require maintenance just like any other machine that sees daily use.
To begin, start by testing the condition of the following components: chains, slings, ropes, lifting cables, and hooks. They need to be in perfect working condition before they can be used to lift a load.
Next, make sure all of the electrical components are connected to an electrical conductor and that they comply with all national and local safety codes.
Now, you can follow all of the maintenance steps listed under the C-frame bench press section. Since both machines are essentially customized hydraulic presses, they will follow the same set of guidelines for lubrication, bolts, and temperature.
Pro Tip: Never climb on top of a laboratory press. Make sure that all of the safety components/guards are reinstalled after maintenance.
Safety Attire and Precautions
As we mentioned in Part One of our press maintenance guide, the appropriate precautions must always be taken any time you are working with a piece of machinery. Metalworking tools and equipment are designed to bend, mold, and shape hard metals without breaking a sweat. That means that you should also stay on the safe side of things even when you're in maintenance mode.
Be sure to wear safety attire before you begin maintenance on any machine. You will need to wear safety glasses to protect your eyes, noise-canceling headphones to protect your ears, heavy-duty gloves to protect your hands, and even a mask to protect your airways from flying debris and dust.
Also, always double-check to ensure that the machine you are about to work on is unplugged from its power source and that all of the pressure inside the machine is forced out. To learn more about official safety rules from the Occupational Safety and Health Administration (OSHA), click here.
Learn More
Do you still have questions about our machines? Now, you can easily get in touch with our team of experts here at Dake. We are more than happy to answer any questions you may have about machine maintenance for metalworking machines.