Here at Dake, we offer a wide range of presses to suit all sorts of needs. From arbor presses to hydraulic presses and everything in-between, we've got something for just about everyone.
Whether you are a complete beginner or you have decades of experience, we got a press for every skill level and workshop size. In this handy guide, we will walk you through all of our press machines to help you decide which one is best suited for your workspace.
Model 2
Arbor Presses
When it comes to arbor presses, you'll be hard-pressed to find a greater selection than what we have available here at Dake. As one of our oldest designs, we have been perfecting the arbor press for over a century. We've got 17 different arbor press models that span across four unique categories.
These are:
• Single Lever
• Ratchet Lever
• Compound Lever
• Air
If you are just starting out in your metalworking journey, a good entry-level arbor press is the Single Lever Arbor Press X model. It's a bestseller here at Dake, and it will last for generations to come.
In fact, we'd go so far as to say that every metalworking shop needs one of these. It's built on a cast iron base and has a 1-ton capacity.
For professional metalworkers or for working within an industrial commercial space, a Compound Lever Arbor Press 5 model is a great choice. With a 15-ton capacity, it provides more pressing power with minimal effort required on your part.
To learn more about our various arbor press machines, check out our recent blog post.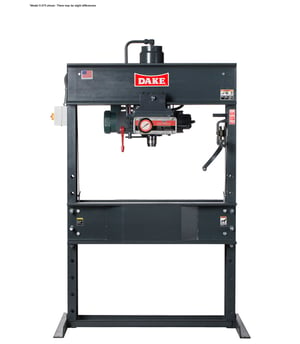 Model 5-200
Hydraulic Presses
We introduced our hydraulic press line back in the 1950s and have since expanded the line to include 9 various categories.
You can take your pick between the following types of hydraulic presses:
• Hand Operated Presses
• Air Operated Presses
• Elec-Draulic I Presses
• Elec-Draulic II Presses
• Moveable Table Presses
• Utility Hydraulic Presses
• Manual Dura-Presses
• Single Phase Dura-Presses
• Three Phase Dura-Presses
Entry-level and traditionalist metalworkers will love the hand-operated models. The 50H model is a great choice as it provides 50-tons of pressing power and comes with a pressure gauge, a flat ram nose, two steel table plates, and more.
Our most popular model is the air-operated B-10 model. Its compact size makes it the perfect addition to smaller workshops no matter what skill level you are at. It offers 10-tons of pressing power, and it is versatile for completing many different projects.
For industrial work spaces, the Three Phase Dura Press Force 200 model is a solid choice. Featuring a joystick for smooth, easy operation, you can quickly and quietly carry out your metalworking tasks.
It provides 200-tons of pressing power and features a lifting chain, two steel table plates, a double-acting cylinder, and so much more.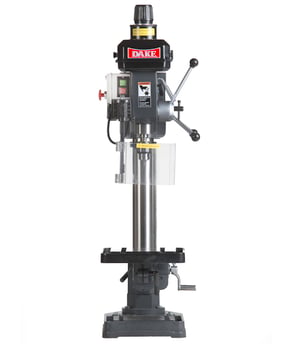 Model TB-16V
Drill Presses
If you are thinking about getting a drip press from Dake, we make it very easy for you to choose. Offering two types of drill presses, all you need to consider is the size of your workspace and the amount of power you want.
In our product catalog, you will find the following drill press options:
• Bench Models
• Floor Models
For workshops with little available floor space, a bench model is a great choice. The TB-16V model features speed adjustability, a large diameter spindle, a cast head, a locking handle hub, and a CE safety electrical package. You can change out the tools quickly to complete your project faster as well.
If you don't want to mount a drill press on a workbench, you can opt for a floor model. The SB-250V fits perfectly into most shops, and it comes with the same features as the bench model plus a forward/reverse selector switch for application tapping.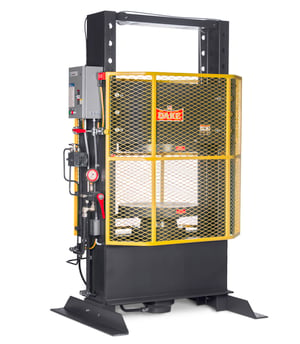 Model 33-672
Tire Presses
If you think that Dake only provides machines for the metalworking industry, think again. We offer tire presses for the automotive and agriculture industries as well.
Whether you are a farmer who needs to change a tractor tire or a mechanic, you can put these machines to good use.
Our product catalog includes the following tire presses:
• Electric
• Air-Powered
Both types of tire presses offer the same 150-ton capacity. The main difference is that the electric models use a motor, and the air-powered model uses air.
Any of these machines can be used by beginners and professionals. They have unique safety features installed that prevent the machines from running when the gates are opened. To learn more about our tire presses, take a look at our recent blog post.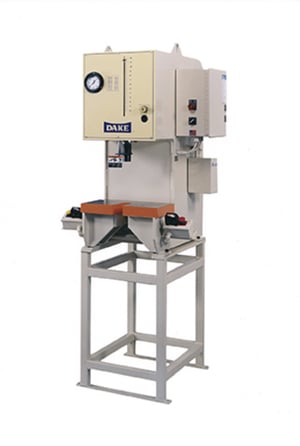 Model 28-604
C-Frame Bench Presses
Our C-Frame Bench Presses all run in the same category. We've got three models that vary in pressing power from 4 tons to 8 tons to 12 tons.
All three models expand upwards, not outwards. This means that they don't take up too much space and can be used in various workshop settings. Each machine features an adjustable return stroke, remote pressure adjustment, and light-sensitive thumb pads.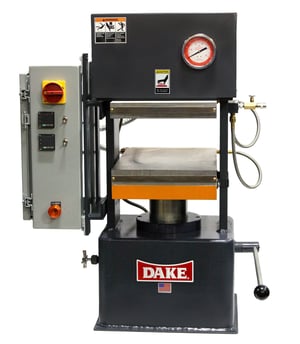 Model 44-225
Laboratory Presses
Advanced metalworkers who want a press that can handle molding, laminating, and testing should take a look at our selection of laboratory presses.
All sharing the same category, we've got five models that offering a range from pressing power from 25- to 75-tons. Each model features an isolate control panel, electric platens that are self-leveling, temperature control for each platen, and a ram that offers dual positioning.
The smallest model is the 44-225, and it is perfect for home metalworking shops. Using a single-phase 110/220-volt motor, it provides 24 tons of pressure and only weighs 425 pounds. Meanwhile, the largest laboratory machine is the 44-275 model.
Weighing in at 1,900 pounds, it uses a 3 phase 220/440-volt motor to provide 75-tons of pressing power.
Customization with Dake
Remember that as a manufacturer, we can customize any metalworking machine to suit your specific project needs. Get in touch with our experts today to get started.