Most industries are looking to put 2020 in their rearview mirrors, and manufacturing is no exception. With the "black swan" event of the COVID-19 pandemic beginning to subside and a contentious presidential election decided, the US manufacturing industry is hoping to rebound from the effects of a tumultuous year.
Shutdowns in the initial weeks of the pandemic caused a significant decline in production and manufacturing employment levels. Recoveries in various segments have been sporadic. The US Industrial Production Index stood at 105.7 in December, a considerable drop from a level of 110 before the pandemic.
While production and order levels remain below 2019 levels, the decline has slowed. Total industrial capacity utilization had improved to 74.5% in December, still below pre-pandemic levels of 77%, yet up significantly from 64.1% in April.
Although employment levels at the end of 2020 were 543,000 lower than at the start of the year, 63% of executives in a recent poll indicated a "somewhat" or "very positive" outlook on manufacturing. Here are some manufacturing industry trends for 2021 and beyond:
Supply chains beyond the pandemic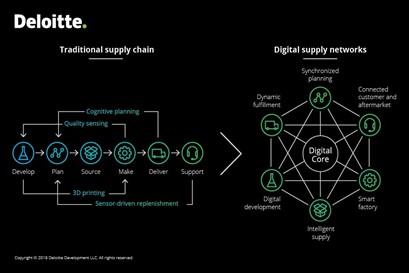 Traditional Supply Chain vs. Digital Supply Network (DSN) (Image Credit: Deloitte)
Manufacturers were encountering supply chain challenges before COVID-19. Increases in tariffs and rising labor costs in China are causing many businesses to move their sourcing and manufacturing activities out of that country. Many are turning to digital capabilities, such as a digital supply network (DSN), to obtain real-time intelligence on activities across an increasingly complex supply network.
As manufacturers continue to reevaluate and accelerate digital conversion in all areas of their value chain--from research and development to production--the most substantial impact will be on their supply chain.
Energy transition could accelerate in 2021
As the industrial sector gives precedence to environmental and sustainability initiatives, these changes will affect energy companies specifically. Although the energy transition has been in progress for decades, the events of 2020 have switched the pace of change into high gear.
While the pandemic was initially expected to hamper the energy sector's investment in new technologies to support the transition, the opposite happened. Companies instead continued to invest in technologies or improved processes that will spearhead the energy transition into 2021 and beyond.
Digital twin technology will continue its rapid growth
A digital twin is a computerized version of a physical product, component, or production process. It allows manufacturers to run simulations with their future products, helping them understand their potential uses, efficiency, and reliability while developing simulations with numerous outcomes.
Digital twin technology enables manufacturers to improve customer relationships by offering insights into customer needs, which allows them to come up with solutions for existing products or services while identifying new business opportunities.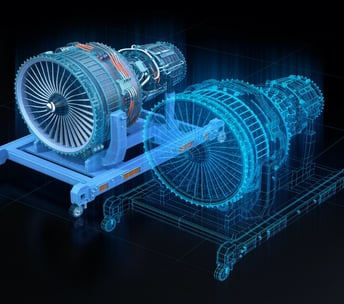 Digital Twins are Transforming Industrial Operations (Image Credit: VeryPossible.com)
Move into 2021 and beyond with Dake
Dake has been one of the most trusted names in manufacturing for over 130 years. Our tools have been passed down for generations for their reliability and durability. Today, the Dake entrepreneurial spirit lives on by empowering the next generation of metalworkers with quality tools to make their dreams a reality. And that spirit will live well into the future!
Take a look at our product line. To find out more, fill out our contact form, call us at 1-800-937-3253, or email us.