If you have been thinking about expanding your metalworking shop to include an arbor press, now is the perfect time. Offering 17 different models including single, ratchet, compound, and air models, we've got something for everyone.
No matter where you currently are in your metalworking journey, our experts here at Dake can match you up with the perfect arbor press machine for you.
But first things first. It is worth bearing in mind that with any metalworking project, it's important to commit safety first rules to memory especially when you are running metalworking equipment.
Even if you are familiar with the rules, refresh your memory by going to the Occupational Safety and Health Administration (OSHA) and/or read the tips on the Machine Accidents website which outlines a list of do's and don'ts to reduce the risk of metalworking accidents.
In this guide, we will walk you through the various arbor press machines and how you can incorporate them into your shop.
Single Lever Arbor Presses
As one of the most popular arbor press styles in our inventory, the single lever arbor presses are perfect for folks who want the ease of a machine while still maintaining a good amount of hand control.
Based on the original design from 1911, our arbor presses have a life expectancy of several hundred years. If you own a vintage model and need a replacement part, we've got you covered!
Our bestselling single lever arbor press is the X model. With a 1-ton capacity and a cast iron base, this press was built to withstand the test of time. It comes with a solid table plate, a ram, and an adjustable handle for versatile positioning.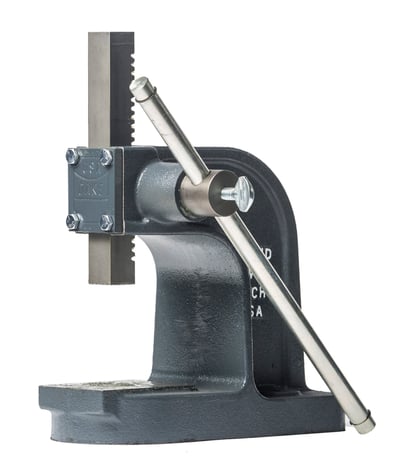 Next is the 00 model. It is very similar to the X model except that it features a slotted table and an open base.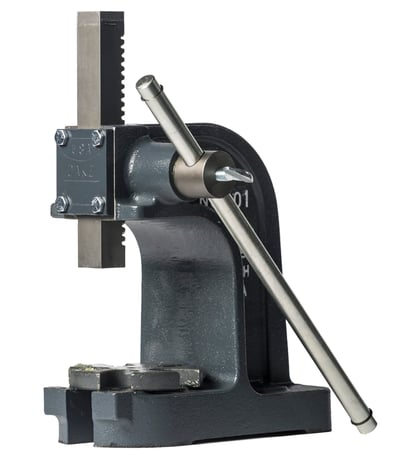 Stepping up to the Y model will increase the capacity to 1.5 tons. Essentially, it's a stronger version of the X. Similarly the 0 model is just like the 00 model except for the extra capacity which caps out at 1.5 tons.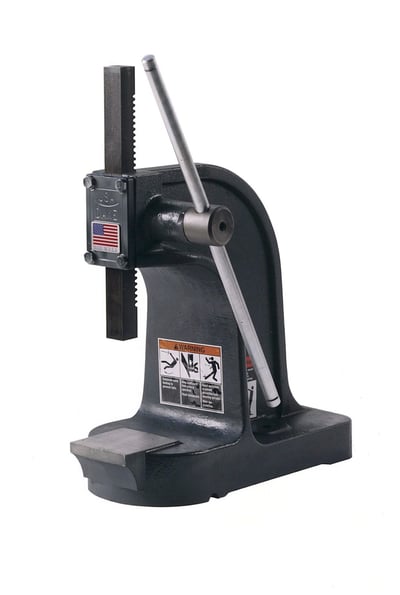 Finally, the heavy-duty single lever arbor press is the 1 model. With a 3 ton capacity, this model features the cast iron base, ram, adjustable handle, and slotted base.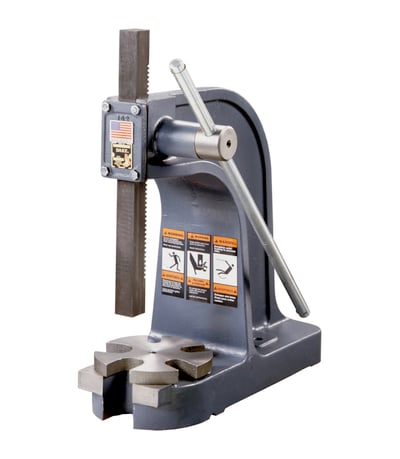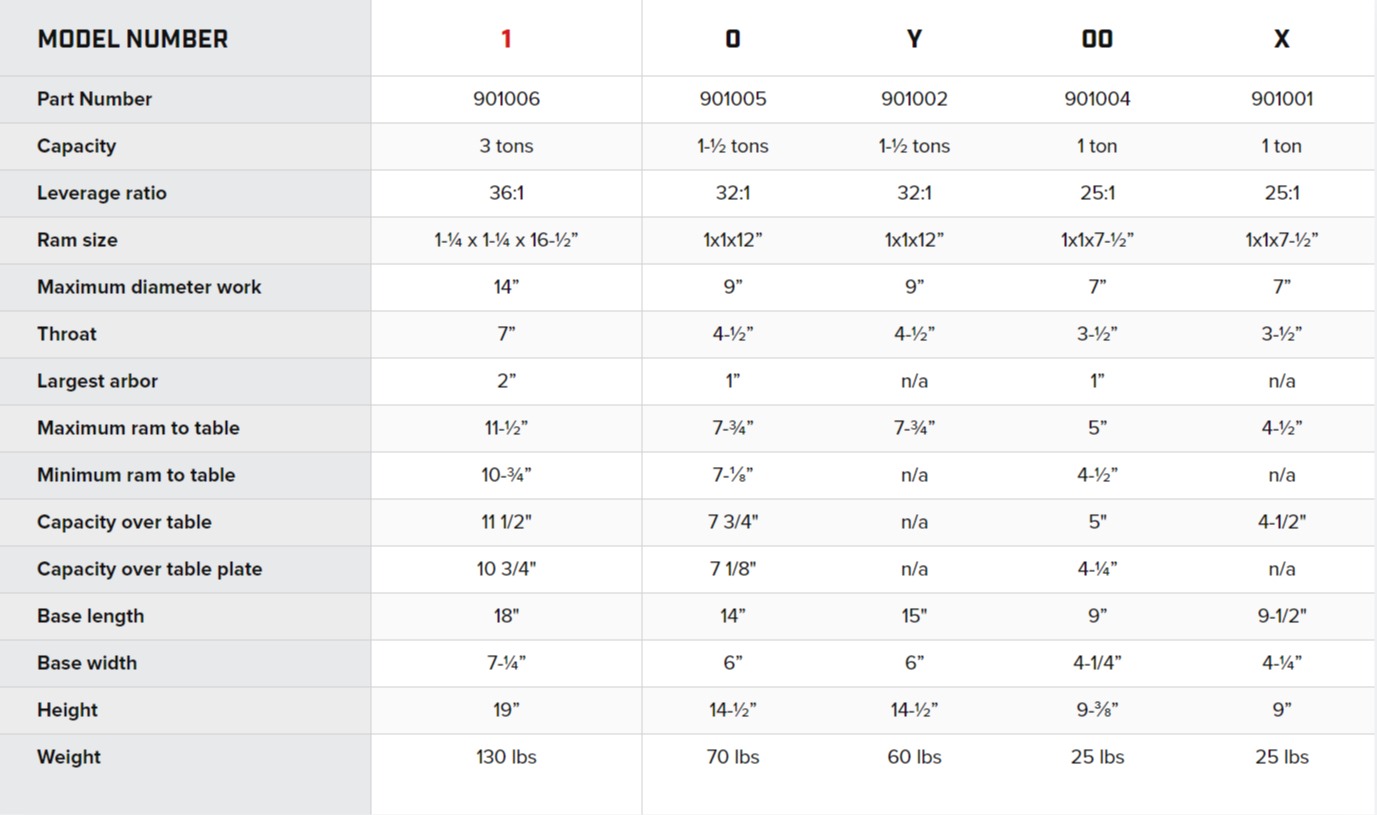 Ratchet Lever Arbor Presses
For more convenient hand positioning, you may want to consider the ratchet lever arbor press. We offer 6 various models. The first four have a 3-ton capacity, and the last two can manage 5 tons of pressure.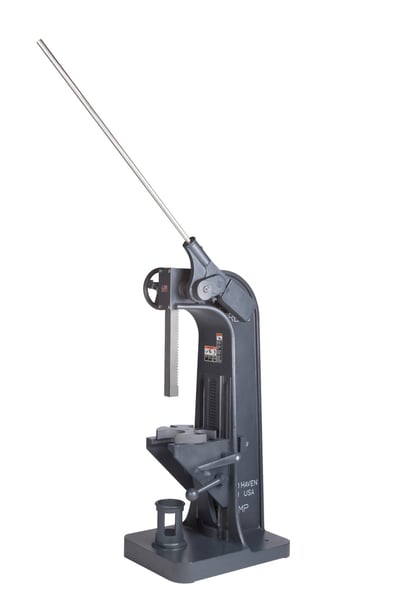 In the first group, we will kick things off with the 1-1/2 model. Featuring a cast iron base, friction brake, ram, hand wheel, counterweight, and a notched table plate, you can complete tasks quickly with this model.
Next is the 1-1/2B model, which was designed specifically for broaching. Then, we have the 1-1/2C model, which is best used for large diameter pieces. The fourth ratchet level arbor press that has a 3-ton capacity is the 1-3/4 model. It is very similar to the first model with the addition of side mounts.
In the second group, the 5-ton captain models are the 3A and 4M. The 3A model features a cast iron base, hand wheel, counterweight, ram, and a notched table. The 4M also has these features along with an added brake that is operated by hand.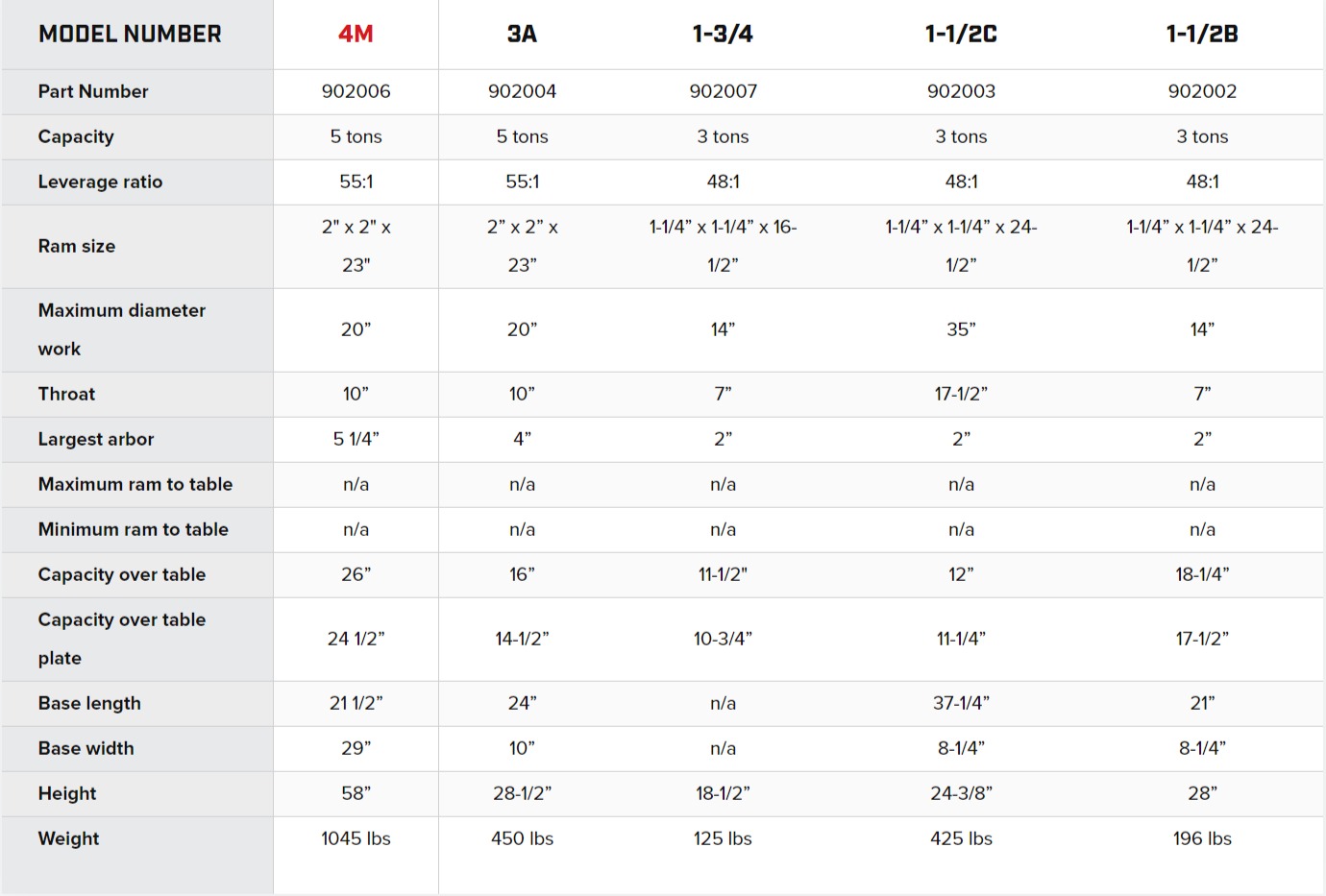 Compound Lever Arbor Presses
If you find yourself in need of more pressure and less effort, then a compound lever arbor press might be the way to go. We offer six various models here at Dake.
First is the 2 model. This machine offers a 6-ton capacity and was designed with stability in mind. Featuring a cast iron frame, slotted table, and a ram, the 2 model requires minimal effort to produce the maximum amount of pressure.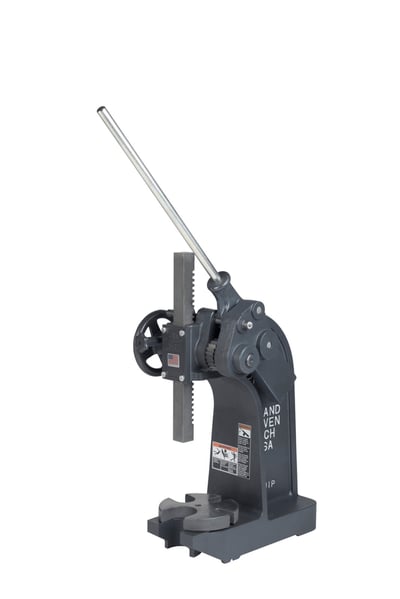 The 2 1/2 model is very similar with the addition of a 21 1/2" max ram to table height. Take a look also at the 2B model of the 2 versions.
Moving up to the 3 model will increase the maximum capacity to 12-ton. The 4 model also has a 12-ton limit, but it was designed as a floor model. All the previously mentioned models require a work table or bench to sit o
Lastly, the 5 model offers a 15-ton capacity and many upgrades including dual swinging tables for behaved height adjustment.
Air Arbor Presses
Our final category for arbor presses is the air category. These are very easy to use, but they are not as strong as the aforementioned models.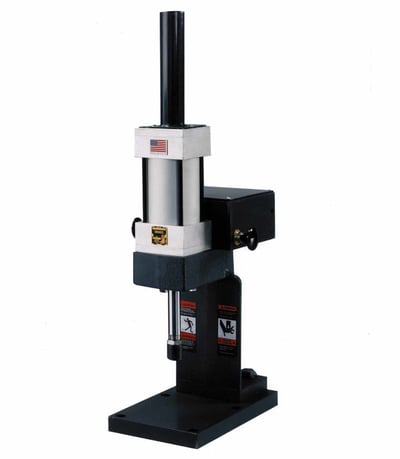 Starting with the 1-204 model, this air arbor press offers a 400-pound capacity and a cast-iron frame. It also features a double-acting ram which eliminates the need for guide pins, chrome-plated piston rods to reduce rust, an air filter/regulator for the continuous flow of clean air, and an air cylinder.
The 1-210 model has all of the same features along with a high capacity set at 1,000 pounds. Finally, the 1-220 is even stronger with a 2,000-pound capacity.
All of the air arbor presses are easily adjustable and feature polyurethane rod wiper that protects the air cylinders from dust and contaminants.
You can also easily attached or detach nose pieces and tools due to the threaded rod ends. As a safety feature, the double-acting ram will only move once the dual-palm push-buttons have been engaged.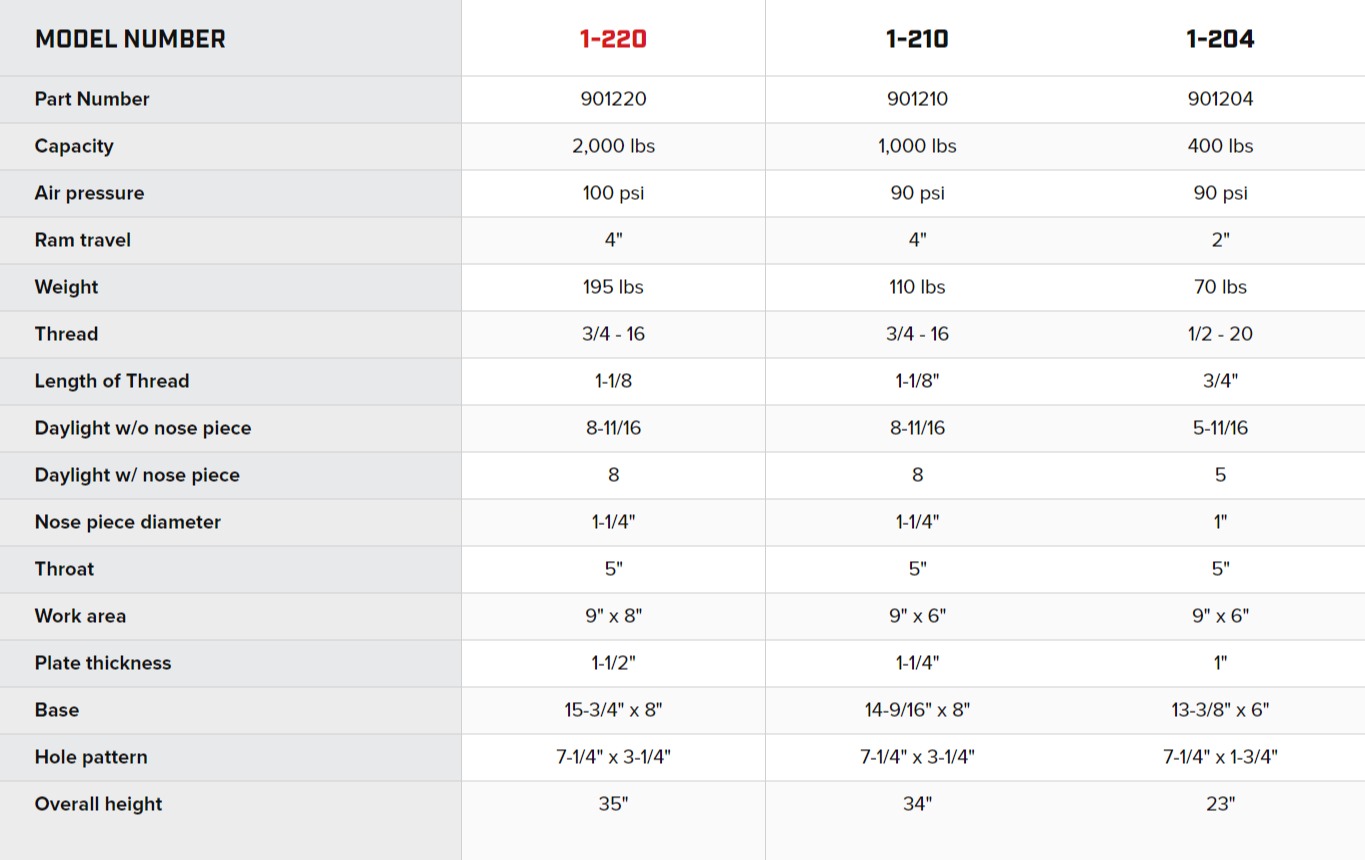 Learn with Dake
If you want to learn more about the various metalworking machines we offer, take a moment to peruse through our video library.
We have several instructional videos that show you how to replace or repair certain parts of different machines. You might even be inspired to create another piece of art for your next metalworking project
Customize Your Machine
Since we manufacture metalworking machines here at Dake, keep in mind that we can also customize any machine you want.
If you have a specific job lined up that required a specialty machine, our experts will be more than happy to speak with you about it.
Tell us all about your project, and we will work with you to develop a customized metalworking machine that can accomplish what you want.
We also manufacture parts for all of our machines including the vintage ones. If you want to request a customized machine or order a specific part, get in touch with our Dake experts today.