Do-it-yourselfers and hobbyists typically tend toward the woodworking side when they initially decide to set up a workshop. Others favor designing their projects from metal. And some of the coolest metalworking projects come from those who take advantage of workshop waste, such as metal "drops" from a previous sawing operation, worn-out parts, or objects around the house.
The good news is that you don't need lots of expensive equipment in your workshop. You can get started with a drill press, belt grinder, bandsaw, arbor press, a few essential metalworking hand tools, soldering, brazing tools, or a small welder. And you don't have to be an expert metal worker, either. All it takes are some basic skills and creativity.
Here are three simple projects to get you going. After a few of these, you'll be coming up with your own.
Folding Metal Shelf Bracket



Picture Credit:

Craftmanspace
You can make these sturdy folding shelf brackets from scraps of metal or buy the components for minimal cost. The dimensions are suitable for shelving, but you can increase them if you would rather have a folding table or bench.
This project is ideal for a home metalworking shop that includes a vertical saw, belt grinder, and drill press. Add a few hand tools, and you're ready to get started.
You can download GIF files of both an exploded view of the bracket and an assembly drawing by visiting the Craftmanspace project.
Wall-Mounted Tool Holder Rack

If you are still in the process of organizing your home workshop, here is a simple project to help you along: a tool holder for screwdrivers, wrenches, paintbrushes, etc. There are two styles from which to choose. You can be pretty flexible with these dimensions, even scaling them up to hold yard tools like rakes and hoes. Once again, the project will go much faster with a vertical saw, drill press, and belt grinder.
You can make the holder with scrap pieces of angle iron or use thin-walled tubing and saw it down to two sides. De-burr and paint it to give it a professional look.
The bracket (as shown in the drawing below) is 10" long, and the sides are 1-9/16" wide. There are (7) 3/8" diameter holes that will hold the hand tools. Drill the first hole centered on the length of the holder and 3/4" from the front. Drill the (3) holes on either side of the first hole at a 1-3/8" centerline to centerline dimension. The mounting holes are 3/16" diameter. You can fasten your holder to the wall by using plastic anchors and screws.
You can download a GIF file here.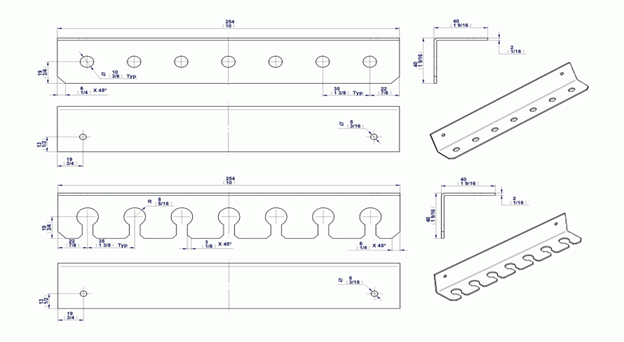 Metal Garden Markers



Picture Credit:

Instructables
Here is a project that could be the perfect gift for your favorite gardener, or it could be something you sell as part of a side hustle. If you have either a vertical or horizontal saw in your shop, you can start sawing these markers. Your belt sander will be perfect for smoothing the outside edges, while you will need a file for the inside burrs.
You will need 1/2" square metal tubing typically available in 36" lengths. You can get four 9" long markers from each piece.
A one-time purchase of metal stamps (below) will get you on your way.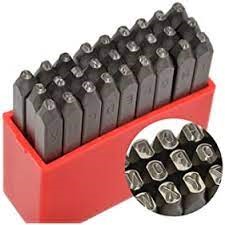 Spell out the name of the plant you want to identify by hammering the stamp hard enough to make a deep impression.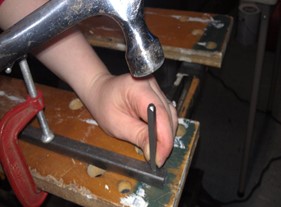 After you have stamped the letters, go over them with a black permanent marker, making sure you get the marker in all the stamped areas. Allow the marker to dry partially, then wipe off the excess with a dry cloth. The color should remain in the stamped letter.
Create your metal projects using the best equipment
Metal projects are a fantastic hobby, but they can also be a way to hone your skills on your way to becoming a professional metalworker. And just like the experts, you'll want to populate your home workshop with nothing but the finest equipment.
Take a look at the lineup of Dake metalworking products. Check out the vertical bandsaws, horizontal bandsaws, drill presses, and belt grinders mentioned in these three projects. However, those are just the tip of the iceberg, as there is also an assortment of presses that could turn out to be invaluable in some of your future projects.
If you have any questions about our equipment, talk to one of the Dake professionals.
Fill out our contact form, call us at 1-800-937-3253, or email us.