Have you ever wondered how various types of metal get their smooth, shiny finishes? Allow our experts here at Dake to show you.
While metal is naturally somewhat reflective, if you really want it to gleam then you have to use a belt grinder. Our Belt Grinder G-75 is an abrasive machine that uses a rough-coated belt to produce various finishes on different types of metal.
It works simply by running a piece of metal through the machine. In this post, we will explain how our belt grinder works and why it's so special. You can even watch our handy video to see it in action.
Belt Grinder G-75
If you've been browsing through our product selection here at Dake, you have probably noticed that each product category has multiple models available. This is not the case for the belt grinder. We only offer one grinding machine, and that is because it's perfect.
There really is no need at the present time to create another version of this finishing tool. So, what does the G-75 model include and why do you need it? Allow us to tell you more.
Using a 220-volt 3-phase motor, our Belt Grinder G-75 generates 4 horsepower. That's enough to handle just about any metal material you put through it. Standard equipment includes a base, hinged cover, grinding belt, Plexiglass guarding, and a 60-grit belt.
The base pivots up and down for quick and easy height adjustments. You don't have to sacrifice comfort for utility. The hinged cover is located on top of the machine, and it opens easily to reveal the inner workings of the belt grinder. The Plexiglass shield keeps all the adjustable parts running steady, and the vented front wheel is in a fixed position for advanced belt tracking and rigidity.
The contact wheel is 3-inches by 8-inches, and the grinding plane is 3-inches by 21-inches. It comes with a belt that measures 3-inches by 79-inches, and the belt speed maxes out at 6,600 feet-per-minute (75 mph). The total weight for this particular machine is 250 pounds.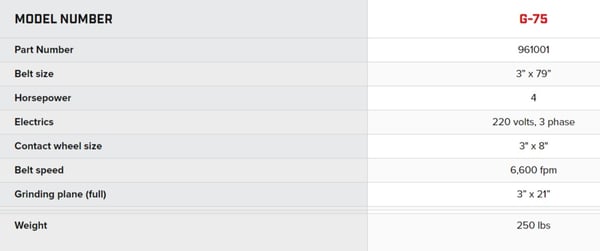 Special Features
Aside from the extremely powerful motor and high belt speed, this model has a few other tricks up its metaphorical sleeve that make it stand out. For example, the front wheel is in a fixed position.
This means that all of the belt tracking and tension is handled by the rear wheel at the back of the machine. The benefit of having a fixed front wheel is that you cannot dislodge or offset the belt or wheel when you're running a piece of metal over the belt.
Essentially, you are pushing the metal up against a solid point. That makes this belt grinder safer to operate and easy to complete projects on.
Another special feature is the hinged top cover. We talked about it briefly before, but we will go more in-depth about it now. When you open the hinged cover, you will have access to the entire length of the belt.
Here you will find a graphite wear strip that enables you to work on a large, flat area. You can also easily adjust the angle to suit whatever type of project you are currently working on.
Metalworking Applications
In the realm of metalworking, there is more to the process than cutting and hole punching. Whether you are creating works of art or slicing up sheet metal, there are many different applications in which a belt grinder can be used.
The first is stock removal. This is a type of cleaning for metal pieces. It removes corrosion, mill marks, and tool marks, and it can sometimes be referred to as dimensioning.
The second type of application that belt grinding is useful for is deburring. This removal of burrs is often called radiusing or edge breaking.
Finally, the most common application for a belt grinder is a process called finishing. This is essentially smoothing out the roughness of the surface. It's a cosmetic process, sometimes called polishing, that removes any leftover micro burrs. The result is a gleaming surface that will leave onlookers in awe.
Pro Tip: a burr is a raised edge that is left on the surface of the metal. You should be able to run your hand over the metal without feeling any bumps or getting cut.
Learning with Dake
If you are ready to invest in the Belt Grinder G-75, then you are probably already familiar with our other metalworking machines. Our experts here at Dake love to share their knowledge with other passionate metalworkers out there.
That's why we created an expansive video library for your convenience. If you want to learn more about our machines, check out our instructional videos.
Frequently Asked Questions
Our company has been around since the late 1880s. We've heard and seen it all. If you have general questions about our products or services, you can get fast answers by checking out the FAQs page.
You can learn about training, warranties, life expectancy, and even where we build our machines.
Customization Options
If you don't find the answer to your questions on our FAQs page, then don't hesitate to get in touch with our experts. We will be happy to assist you with anything related to our products and services.
If you want to order a custom Dake metalworking machine, we can do that. All you have to do is tell us exactly what kind of project you want to undertake and what specifications you think you need to complete it.
Our experts will consult with you about the various modifications that can be made to machines, and we will get your custom model to you as quickly as we can make it.
Also, keep in mind that we also manufacture replacement parts for vintage metalworking machines. If you've got an arbor press that was passed down from your grandfather, we can help you to ensure that it stays in good working condition.