Over the years, Dake presses, saws, and other machine tools have been showcased on popular television shows. Dake was a pioneer on the web, giving the next generation of metalworkers a look at Dake's lineup of quality machines. And by partnering with many of the premier metalworking talents on television, Dake became one of the leaders in the metalworking industry
Some of those programs included Orange County Choppers, Paul Jr. Designs, Xtreme 4x4, Gearz, Engine Power, and American Muscle Cars. Here are just some of them:
American Chopper featuring Orange County Choppers
American Chopper aired on the Discovery Channel from 2002 to 2010. It was a reality series with some of the most contentious and bad-tempered family members you could imagine.
Orange County Choppers was a custom motorcycle manufacturing company owned by Paul Teutul Sr. Most of the drama was provided by the senior Teutul and his son, Paul Teutul Jr. Combined with an astonishing collection of bikes created by the team, the father/son interactions made for a popular show that garnered over three million viewers at its high point.
From the start, Orange County Choppers used Dake metalworking equipment. Viewers saw Dake's hydraulic press, arbor press, and circular cold saw in many episodes. And when Paul Jr. left the show to start his own, he also populated his shop with Dake equipment.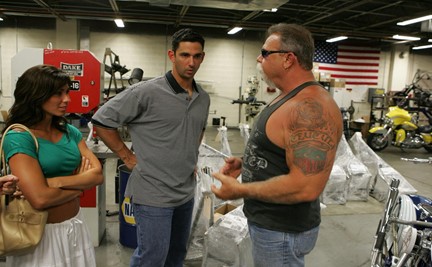 Paul Teutul Sr. with New York Yankees legend Jorge Posada on an episode of Orange County Choppers.
Note the Dake vertical bandsaw in the background. Photo Credit: Twitter
Paul Jr. Designs
When Paul Teutul Jr. left his father at Orange County Chopper, he soon returned to creating custom motorcycles at his new venture, Paul Jr. Designs. While he chose to break with Paul Sr. because of their acrimonious relationship, he followed in his dad's footsteps when picking metalworking equipment. He told a Dake representative:
"When we decided to start building bikes again, you (Dake) were on the top of our list. This (cold saw) was the first piece of equipment we had hooked up." Paul Jr. would eventually add an arbor press, hydraulic press, vertical bandsaw, and power hammer.
Now, both sides of the family are loyal Dake equipment owners and will continue to compete in the production of custom motorcycles, both using some of the finest metalworking equipment available.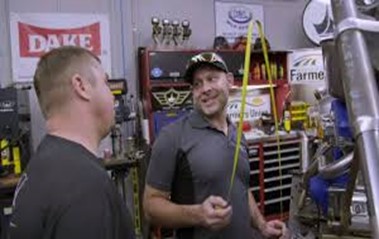 Paul Teutul Jr. of Paul Jr. Designs proudly displays a Dake sign on the wall behind him.
Photo Credit: Facebook
Xtreme 4x4
Although Xtreme 4x4 is ostensibly about off-roading, it has a "how-to" component that provides the fine points of building an off-road 4x4 vehicle for sport, recreation, or everyday driving. Viewers receive information on topics such as parts, techniques, and suppliers, along with instruction on building roll cages and suspension systems for off-road vehicles.
Jessi Combs, one of the show's original hosts, explains the relationship between the show and the Dake equipment that helped to create so many of its off-road vehicles:
"After having the pleasure of working with Dake tools for our Xtreme fabrication builds and knowing we could rely on them to meet our tight production deadlines, the choice was simple to outfit my personal shop with Dake as well."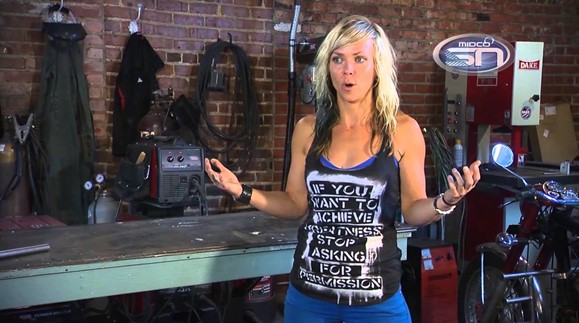 The late Jessi Combs, former co-host of Extreme 4X4
A Dake vertical bandsaw is just behind her left shoulder.
Photo Credit: Jessi Combs
Engine Power
Professional engine builders and hosts Pat Topolinski and Mike Galley supplied viewers with tips on assembling and tuning mid-performance street machines up to full-race monsters. It offered step-by-step instructions on how to turn practically any engine into a "tarmac-tearing monster."
In addition to Engine Power, other shows under the umbrella of PowerNation included Xtreme Off Road, Truck Tech, and Detroit Muscle. The hosts of Engine Power had decades of experience building "all manner of hairy powerplants and strip pounders," and they were willing to share their knowledge freely.
With all that experience and enthusiasm for building high-performance engines, it isn't surprising to see that they had a special relationship with Dake equipment and their lineup of quality machine tools. As you can see from the picture below, host Mike Galley is surrounded by various machinery provided by Dake Corporation.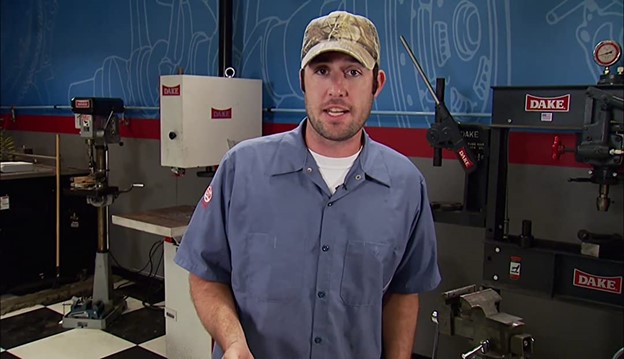 Mike Galley from Prime Video's Engine Power
Take Note of the Dake Drill Press, Vertical Bandsaw, Arbor Press, and Hydraulic Press
in the Background
Photo Credit: Amazon.Com
Gearz
Stacey David has been building and restoring cars for over 30 years, starting when he was a teenager. "I worked in several shops over the years and apprenticed with some great teachers," he says.
For several years, David owned a custom shop, leading him to build vehicles on TV. While he has hosted several TV series over the last 20 years, he is currently the host of Gearz, a program dedicated to customization, fabrication, and restoration.
Although Stacey loves and uses Dake products (see the Dake hydraulic press below), he is a huge fan of Dake's vertical bandsaw lineup. These bandsaws offer a heavy-duty frame construction designed to reduce wobble and vibration, ensuring precise cuts and fewer cutting errors. "Whether I am cutting heavy stock or making intricate cuts, this (bandsaw) is the cutting tool I use most," he says.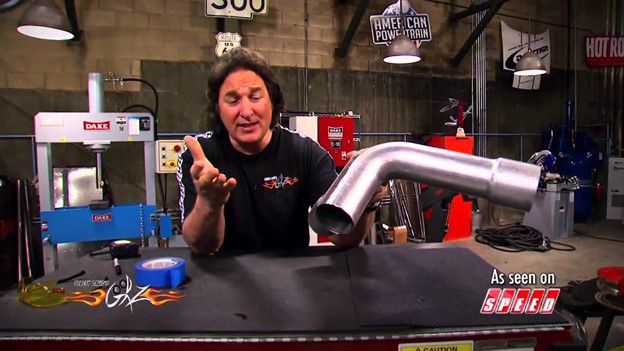 Stacy David from Gearz Offers Handy Tips as a Dake Hydraulic Press Waits Behind Him
Photo Credit: Stacey David Gearz
Join the pros in using the very best
If these professionals are willing to stake their reputation on TV using Dake machine tools, that should tell you all you need to know about this top-quality equipment. Whether it's hydraulic, arbor, and laboratory presses; horizontal and vertical bandsaws; cold saws, or drill presses, Dake has you covered with the finest in metalworking equipment.
To find out more, fill out our contact form, call us at 1-800-937-3253, or email us.