Arbor presses, hydraulic presses, and drill presses in abundance. Here at Dake, we've got just about every kind of press you can think of for metalworking.
We even have a great selection of C-Frame Bench Presses. Built to last, these durable machines make a great addition to your workshop. In this article, we will cover all of our C-Frame Bench Press models and what you can expect out of each one.
C-Frame Bench Press Model 28-604
Starting with the smallest machine, the 28-604 model offers 4 tons of pressing power at an affordable rate. This affordably priced press is perfect for hobbyists. It comes standard with a steel frame, nose piece, bolster, hydraulic cylinders, run-jog selector, and remote pressure adjustment.
You can maintain precise control over the ram movement with the adjustable return stroke. This is activated by the proximity switch. For your safety during operation, the ram will not move unless both light-sensitive thumb pads are engaged at the same time.
The long-lasting hydraulic cylinders are used at 2,000 psi, and the run-job selector allows for fast and easy set-up. You can also easily adjust the pressing power by using the remote pressure adjustment feature.
As for dimensions and weight, the base takes up 31-inches x 19-3/4-inches of floor space, and the machine weighs 1,229 pounds. The table measures at 18-inches x 11-1/2-inches, and the entire press stands just over 49-inches tall.
C-Frame Bench Press Model 28-608
Moving up to the mid-size 28-608 model, this C-Frame Bench Press offers 8 tons of pressing power for more difficult jobs. It's a great upgrade if you are already familiar with its petite sibling (28-604). All of the same high-tech and safety features carry over to this larger model.
It takes up more floor space with a base measured at 36-inches x 20-½-inches. Weighing 1,355 pounds, it is equipped with the same size table, but the height is different. This one stands about 50-inches tall.
The 28-608 is also considered to be a budget-friendly press. It is easy to set up with the run-jog selector, and you can still adjust the pressure remotely.
C-Frame Bench Press Model 28-612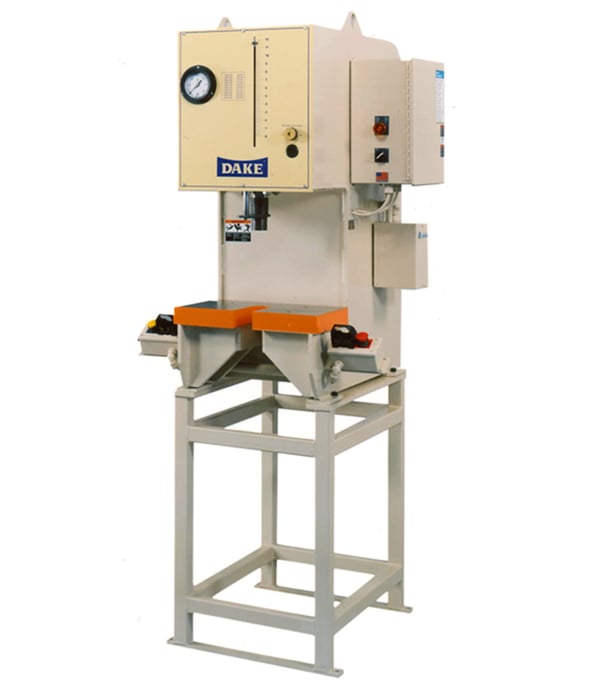 Stepping things up another notch, the 28-612 model is the C-Frame Bench Press that all the professionals want. As the strongest machine in the C-Frame family, you'll be hard-pressed to find something you don't like about it.
All of the same safety and tech features from the first two machines carry over onto this one. That includes the run-job selectors, remote pressure adjustment, hydraulic cylinders, light-sensitive thumb pads, and everything else mentioned before. The main difference is in the size, weight, and sheer power.
Standing 58-⅝-inches tall, this particular model weighs 2,460 pounds. The base is measured at 47-½-inches x 24-¾-inches, and the table is 23-inches x 19-inches. In other words, once you pick a spot for this machine to stand, it's best to make that location its forever home. This model offers a whopping 12 tons of pressing power, and it can handle any task you throw at it.
Add-On Options
Since all three of our C-Frame presses offer the same set of standard features, it's important to note that you can also build-on to any of these machines. Here at Dake, we've got several model options that you can add.
These include a pedestal, air/oil heat exchanger, pressure reversal control, distance reversal control, variable speed control, piece/cycle counter, external dwell timer, threaded/flanged nose piece, and plain/U-Slot/bored hole bolsters.
If you need additional pieces to make your C-Frame press exactly how you want it, get in touch with our experts. Because we manufacture our own machines right here at Dake, that means we can easily customize the machines to be exact to your specifications.
If you want to add another feature, replace a part, or have a new custom feature created for your machine, we can do that for you.
A Little More About Dake
Founded in 1887, our company has managed to cultivate a reputation for producing long-lasting, reliable metalworking machines for over 130 years. Now, most of our machines are manufactured in our facility located in Grand Haven, MI.
Every machine we create comes with a 1-year warranty, and our service representatives are available for training purposes upon request. If you are unsure of how to properly use your new machine, we will walk you through the process step-by-step.
We can build custom metalworking machines to suit your specific project, and we can even replace parts on vintage machines. If you have an old arbor press that was passed down from your great-grandfather, we'd love the opportunity to get it up and running again.
Replacement parts can be made right here at our facility, and we will ship it to you when it's ready. Our machines have always been built to last, and we want you to enjoy Dake products for generations to come.
Learning with Dake
Our experts here at Dake love to share their knowledge with you. That's why we created an expansive video library that is full of useful clips to help you learn more about your metalworking machine.
We teach you how to set-up, clean, and maintain your machines. We also have how-to videos that show you how to use the machines to their best potential. Click here to check out our video library.
Get in Touch
If you are thinking about investing in a Dake metalworking machine, now is a perfect time. You can use our sales rep locator to quickly find an agent near you. Simply input your zip code, and you will be given the contact information or the nearest sales representative.
For custom machines, replacement parts, and questions about our product line, be sure to get in touch with us today.