Used to punching holes through hard materials, drill presses make the lives of metalworkers so much easier.
As a fixed style power tool, these machines can be placed on a worktable or bench, or they can be set on the floor. The standard design features a base, pillar, spindle, table, motor, and drill head.
Here at Dake, we offer two types of drill presses (bench model and floor models) for you to choose the perfect fit for your workspace.
Let's explore the various models in each category to help you decide which one is best suited to your metalworking needs.
Bench Model Drill Presses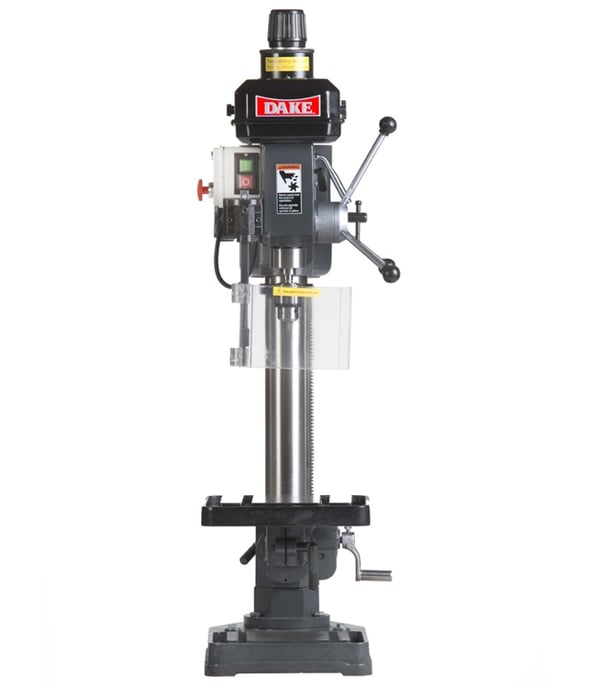 Model TB-16V
If you are thinking about buying a bench model drill press, then you will need to make sure that you have the table space for it. These models weigh 175 pounds and can sit atop a workbench or table.
The base width for both models is measured at 12-1/4-inches, and the total height is 42-1/2-inches. They are petite machines that don't take up too much space, which is great if you are working in a smaller shop.
The TB-16 model has a 5/8-inch drill capacity and comes with standard equipment such as the CE safety electrical package, a large diameter spindle, a cast head, a locking handle hub, a ½" keyed chuck, a guard for Plexiglas chips, and a drift for easy bit removal.
You can change out the drill bit easily, and you can modify the speed using the quick belt tension release.
The CE safety electrical package includes an emergency stop button, low voltage controls, a push-button ON/OFF switch, and it protects against overheating. The smooth-drilling spindle has four bearing points and a speed range of 240 to 3,400 rpm.
The sturdy base helps to reduce vibrations. For better precision during operation, the handle features 3 spokes that use a spring return, and the locking handle hub has an easy-to-read dial adjustment for accurate, fast settings.
The TB-16V model also offers a 5/8-inch drill capacity and all of the same features as the TB-16 model. The difference is in the speed of the spindle.
Due to the top-mounted speed selector knob, the large diameter spindle has a speed range set between 545 and 4,000 rpm. Even with the enhanced spindle speed, it is still just as accurate as the TB-16 model.
Floor Model Drill Presses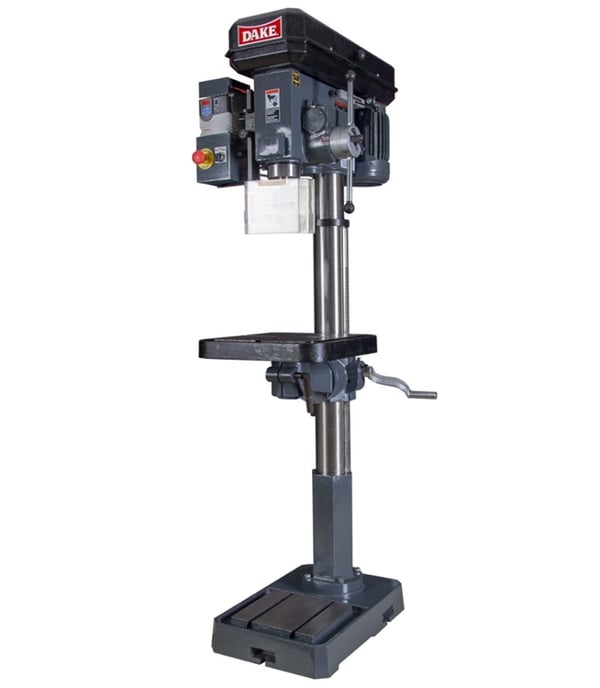 Model SB-250V
If you are running low on table space but you have plenty of room on the ground, you can opt for one of our many floor model drill presses.
These weigh between 230 and 483 pounds, so they are much heavier than the bench models. The base widths range between 12.5- and 15-inches depending on which model you choose, and the total heights range from 64- to 71-inches.
The SB-16 model has all of the same features at the TB-16 bench model including the 5/8-inch drill capacity. Essentially, it is the floor model version of the TB-16.
The SB-25 model is where things start to change. Offering a 1-inch drill capacity, this floor model drill press features either a single-phase 110-volt motor or a 3-phase 220/440-volt motor.
The maximum horsepower that it can generate is 2 HP. It has 9 various spindle speeds ranging from 270 to 2,000 rpm. All of the standard equipment that we saw on the TB-16 bench model remains the same.
Moving to the SB-25V model will several new features to the already long list of standard equipment. You will get an adjustable knob that is mounted on the frequency inverter. This allows you to change spindle speeds while drilling.
You can easily read the spindle speed on the LED illuminated indicator. Speeds range from 46 to 3,550 rpm, and this drill press uses a single-phase 100-volt motor to produce 2 HP. For tapping applications, you can use the forward/reverse selector switch.
Next is the SB-32 model that offers a 1-¼-inch drill capacity. All of the standard equipment remains the same. This particular machine uses a 3-phase 220/440-volt motor to push out 2 HP, and the spindle speed ranges from 270 to 2,290 rpm.
The SB-32V model is an enhanced version of the SB-32. Although it uses the smaller single-phase 110-volt motor, it is capable of performing tapping applications via the forward/reverse selector switch. The range for the spindle speed is between 46 and 3,473 rpm.
Finally, the last floor model drill press is the SB-250V with a 1-inch drill capacity. Keeping all of the same standard equipment, this particular machine is unique in that it uses a power down feed.
It automatically runs to the preset depth, bottoms the hole out, and returns to its original position. It can even perform tapping applications using the forward/reverse selector switch. This all-in-one drill press is ideal for metalworkers who have a lot of work on their plates.
Using a single-phase 110-volt motor that generates 1.5 HP, the spindle speed ranges from 68 to 1380 RPM.
Why Choose Dake?
Established back in 1887, Dake has been a longstanding member of the metalworking community for over 130 years. We have cultivated a reputation for building reliable machines for all skill levels that last lifetime, and we have the best selection of metalworking power tools in the country.
Since we manufacture our machines, we are also able to provide replacement parts for vintage models and even build custom machines. That's right. If you have a special project in mind that requires a very specific machine that we don't have, we can help.
Just get in touch with our experts and let us know what you're planning to do. We can help you determine the type of customization needed to complete your project.