Laboratory presses are in demand—and for good reasons. Scientists and researchers prefer these versatile machines because they can meet the rigorous demands of testing while maintaining their precision throughout various processes.
Operations within the research and development community come with extremely high burdens, making laboratory presses an integral part of these industrial studies. And the durability of laboratory presses ensures they will have a long and valuable life providing consistent results.
The design and manufacture of these presses typically include precision digital temperature control, allowing operators to press their products more accurately, consistently, and according to exact requirements. Many lab presses are designed for a bench or countertop, while others have optional pedestals to convert them to a floor-standing model.
Laboratory presses typically with options for a range of temperatures, tonnage, and platen sizes to meet almost any process. Top-of-the-line lab press manufacturers design them with few maintenance requirements, low noise levels, and a minimum footprint to conserve floor space in smaller labs.
How are lab presses used?
Laboratory presses are often used to create compressed pellets from powdered material. The pellets are used in various applications such as pharmaceutical development, spectroscopy, and bomb calorimetry.
Powders are placed into either a die or mold on the press and are pressed into shape using hydraulics. Laboratory presses can usually produce a range of pressures from 25 to 75 tons. And they can accommodate a variety of customized dies.
Laboratory presses are also required for other fields of applications. In addition to their essential use in developing new materials, the presses are often employed in quality control during production.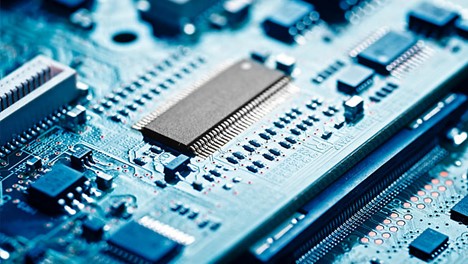 Lead frames used to mount microchips are produced on lab presses
(Photo Credit: Jumbo News)
Which industries benefit the most from lab presses?
Although laboratory presses could provide advantages to almost any industry, the precision of these machines means you will often find them in wood research, the rubber and plastic molding industries, pharmaceuticals, aerospace, computers, and medical. The lab presses are standard among companies who do R&D work, testing, short runs, limited production, cell manufacturing, and lean manufacturing.
With the variety of uses for laboratory presses, it might be confusing to determine which one is best suited for a specific job. The answer: talk to an expert on laboratory presses to ensure you get the right one for your project.
Dake has your lab press
Dake offers five different laboratory press models, and if none of these meets your needs, we will custom-build one that does. If you have a specific project that requires a lab press that we don't offer, contact one of our professionals. They will help you customize a machine to fit your application.
Check out the features and standard equipment below, and we can get started matching or building a lab press to fit your needs: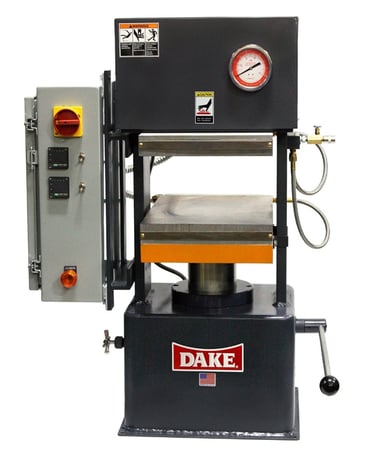 Dake's Model 44-225 Laboratory Press
Features
Self-leveling, electrically cooled, precision-ground steel platens are pre-wired into the control panel.
Heating elements are replaceable.
A unique dual-acting pump provides a rapid advance of the ram.
Conversion of the pump to high pressure-low volume output provides accurate control and easy operation.
Ability to hold pressure for extra-long periods.
A release valve on the side of the press enables the operator to adjust the pressure accurately and accomplish gradual decompression or fast opening of the press.
Side-mounted control panel.
Precise temperature control. Temperatures are accurately controlled from 100˚ to 600˚F.
A removable ram adaptor allows for a more significant daylight working height.
Standard Equipment
Electric Platens
Precise Digital Temperature Control
Hydraulic System
Two Position Ram
If you have questions, fill out our contact form, call us at 1-800-937-3253, or email us.